When Guatemalan sister and brother team Lorena (above left) and Ricardo Velasquez (above right) started their furniture company Labrica in 2013, they dreamed about entering the U.S. retail market. Little did they know that through a Bpeace Remote Mentor, Labrica's handcrafted pieces would soon be part of Room & Board's collection.
Lorena and Ricardo have been Bpeace Guatemalan Fast Runners since 2015. Bpeace paired Labrica with Remote Mentor Tim Duffy, a design associate from Room & Board, and a long-running relationship commenced.
Lorena was thrilled with the match, but never anticipated that Room & Board would eventually become one of their customers.
"We thought they only sold products that were made in America," Lorena says.
A relationship blossoms
Over the course of 10 months, Tim (above) helped Lorena and Ricardo develop a business plan and plot a growth strategy. Over Skype, they tackled production and sales issues, from margins and mark ups to machinery, lead times and marketing."They were really willing to listen and to make sure that they were cognizant of growth," Tim says.
Impressed with Lorena and Ricardo and their products, Tim started promoting Labrica at Room & Board.
"Labrica is right up Room & Board's alley," says Tim of Labrica's furniture, which is made from locally sourced wood that comes from a sustainable forest. "I sat down with our lead manager to see if we could do a small scale introduction of Labrica's product."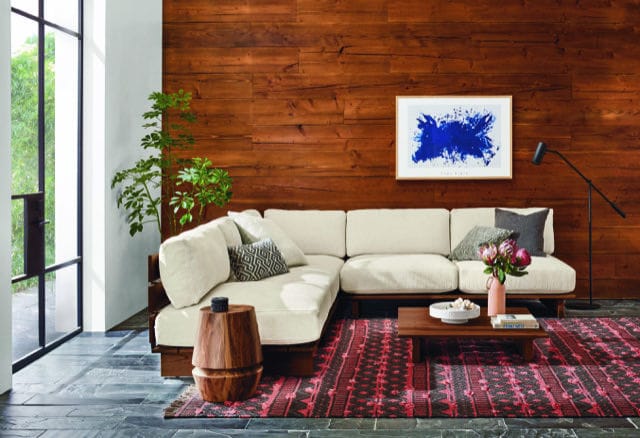 Room & Board asked for prototypes, and just a few months later two of Labrica's products landed in the 2018 catalogue.
"It went that fast," Tim says.
Sales are strong
Room & Board now sells Labrica's Nyla end tables (above), made from Guatemala sourced wood. In the first three months, Room & Board sold 130 pieces; the company expects to sell about 600 units this year.
"Assuming service and quality remain excellent, there is no reason we wouldn't consider looking at additional products in the future," Tim says.
It's a huge leap for the five-year-old company, which emerged when Lorena, now 37, and Ricardo, 39, decided to combine her aptitude for business and finance with his skills in technical design. With the backing and blessing of their mother, Lorena and Ricardo founded Labrica, a name that combines the Spanish words for laboratory and factory.
"We decided to call it that because we design and we create," Lorena explains.
Lorena takes care of the business end in Guatemala City, while Ricardo a designer based in Miami, uses Labrica's furniture in his design projects through his firm Casa Conde and Associates.
Setting a direction
Lorena says that the company was doing well but sought out Bpeace's assistance in order to ramp up growth. Under Tim's guidance, Lorena increased her knowledge of margins, mark ups, lead times and marketing. "In our first conversation, Tim asked if we had a strategy. This got us thinking about where we wanted to go," she says.
With Tim's encouragement, Lorena said she and her brother started to feel more confident.
"Our revenue has grown 50% to 60% because of Bpeace," Lorena says. "We have also added five new full-time jobs and created seven temporary jobs."
Today, Labrica, with 15 full-time employees, is also working on projects in Costa Rica and Panama. And, thanks to another Bpeace connection to architects in El Salvador, Labrica entered the Salvadoran market. Labrica is also in the process of establishing its first distribution outlet in Austin, Texas.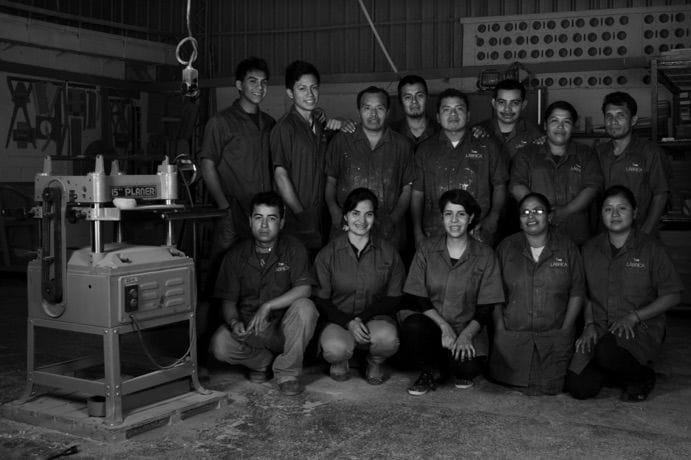 In addition to Room & Board, Labrica's furniture can be found on the websites 1stdibs.com and workof.com.

As Lorena has learned, one relationship can lead to many more. "All of our growth has been because of networking," Lorena says. "For me, Bpeace offers so much, but one of the most valuable things has been the people we have met."