Unlock your
Potential to Do More
Talent to Grow Small Businesses
Desire to Pay It Forward
Got business skills?
VOLUNTEER AS A BPEACE SKILLANTHROPIST
For nearly 20 years, both on the ground and remotely, Bpeace business volunteers ("Skillanthropists") have been helping international entrepreneurs, especially women, grow their small and medium-size businesses and create jobs in their communities.
When you join Bpeace, you become a skill-based volunteer, which means you're using your industry and business knowledge and skills to make a difference.
Whether you are an independent consultant, own your business, work at a Fortune 500 company, work for a midsize or smaller organization, or are retired—if you have business experience and skills, Bpeace has meaningful volunteer opportunities for you.
We are proud to consistently earn 5 stars on GreatNonprofits—the highest rating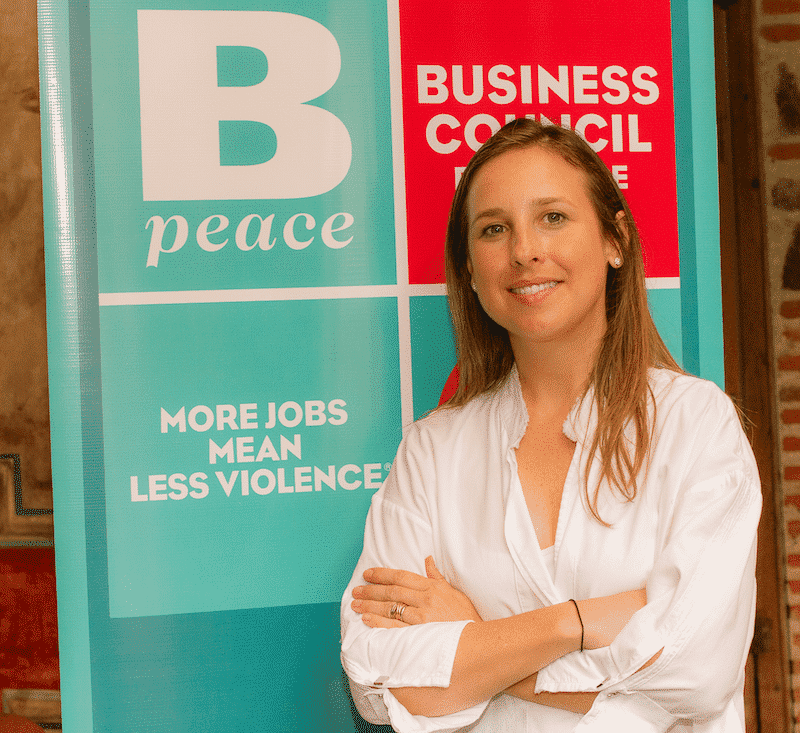 DO MORE WITH WHAT YOU KNOW
Never doubt that you have the talent and the skills to make a difference. Not one of us has all the answers. But together Bpeace is a powerful coalition of business people with a bias toward action.
YOUR SKILLS WILL HAVE IMPACT
Bpeace builds bridges to a better life for thousands of families by creating jobs and more economic opportunity in the global communities where we work. It all starts with strengthening small and medium-size businesses.
YOU WILL ENRICH YOUR OWN LIFE
Whether you volunteer on a remote assignment or travel with us internationally, you will meet like-minded business people and gain the experience of working with new markets, communities and cultures.
TYPICAL SKILLANTHROPIST GIGS
You are busy and possibly new at skill-based volunteering. We treasure your time and talent, and know how to structure rewarding and efficient volunteer engagements. You will never set out on your Bpeace journey alone. Our staff and your fellow Skillanthropists will prepare you and help you deliver impact, as well as ensure you have a rewarding experience.

PROFILER
We pair you with another Skillanthropist to create a dossier on a business in our portfolio.

ONLINE EXPERT
Make yourself available to Fast Runners through Connect, our private online community.

LEARNING LEADER
Lead webinars or in-person workshops and then consult privately with each business owner.

CONSULTANT
Depending on the needs of a Fast Runner, we match you to a growth project assignment.

EXPLORER
With a team, explore opportunities to apply the Bpeace model. Current topics include climate and refugee businesses.

BPEACE ACCELERATOR
Share your marketing, tech, HR or research skills to strengthen Bpeace's innovation, infrastructure and outreach.
"We are all one people, struggling for the same things and experiencing the same triumphs and challenges. Bpeace makes me feel useful and welcomed. Take a chance, jump in and change your life forever."
"I found Bpeace while searching for a way to donate my skills in marketing/strategy and my love for humanity. I was instantly aligned to their mission of expanding economic power for women and local entrepreneurs."
"Volunteering for Bpeace has been one of the most fulfilling experiences of my life. I have worked on a huge range of projects and met amazing people from around the world who have enriched my life immeasurably."
"In the midst of a particularly challenging year in the world, Bpeace has been a beacon of purpose and belonging. I feel like I've taken more than I've given--that the community of Skillanthropists has been an uplifting and inspiring force in my life."
Will I receive a volunteer assignment right away?
We will welcome you immediately and your first task will be to populate your profile on Bpeace Connect, which is our private trusted online community for Skillanthropists and Fast Runners. Once you have completed your profile, we will schedule a "deployment call" so that you learn about us, and us about you. On that call we will review the current and upcoming opportunities that fit your experience and schedule.
Why do I need to make a monthly donation to volunteer?
Bpeace is a nonprofit organization. Skillanthropist membership donations are a small but vital part of our diverse revenue stream.
How am I matched to an assignment?
As soon as you complete your Bpeace Connect profile, you will have the opportunity to contribute knowledge in our private online community. From there, we will be eager to learn more about your skills so that we can invite you to participate either on a team or on an individual specific assignment.
How much time do I need in order to volunteer?
Time is totally in your hands. If your schedule is tight, you can micro-volunteer any hour of the day for just a few minutes by contributing insight in our private online community for small businesses and Skillanthropists. If you have eight hours over the span of four to six weeks, you can work on a robust project with another Skillanthropist. If you have an hour every two weeks, you can join a team that is working on a relevant topic.
I see that some Skillanthropists have been members for many years. How does that work?
Bpeace is a community. One-and-done assignments are not what we offer. We create an experience that frankly is addicting. We want you to love what you do and the impact your support is having. Some Skillanthropists may have an assignment every year or every two years. It depends on your schedule and what we have available.
Most of Bpeace's work is remote and health and safety-allowing, Skillanthropists travel to the field to work side-by-side with the small-business owners in our portfolio.
Does Bpeace ever have any in-person Skillanthropist events?
Yes. We hold an annual meeting in October in New York City.




Most Skillanthropists join Bpeace on their own as individuals. We ask our individual Skillanthropists to contribute to our mission with a monthly donation (tax-deductible for those in the U.S.). These membership donations contribute about 9% of our annual operating budget.
Corporate members contribute lump-sum annual donations on behalf of their employee Skillanthropists. Contact us for more details on corporate memberships.
To volunteer as a Skillanthropist, select the monthly donation that works for you
$15/month Community membership makes you eligible for Skillanthropist assignments.
$25/month Associate membership makes you eligible for the Bpeace Executive Council.
$50/month Executive membership can include a supplemental membership for someone in your family.
$100/month Philanthropic membership warms our hearts with your generosity.