A good job changes everything
Create jobs in communities where they are needed most
We create jobs and help small and medium-size businesses grow by pairing them with volunteer business experts.
The Business Council for Peace (Bpeace) is an award-winning nonprofit working in crisis-affected communities to grow small and medium-size businesses, create significant employment for all, and expand the economic power of women. More jobs mean less violence.®
We deliver high-quality customized business consulting through volunteer business experts we call "Skillanthropists," to carefully vetted small and medium-size businesses we call "Fast Runners."
Together we are in pursuit of a common vision; we believe that employment is the bridge to education, poverty reduction, improved health and ultimately less violence; and that jobs for women are vital to women's advancement and to elevating their peaceful influence on society.
In 2021, Bpeace Skillanthropists are working with 100+ small and medium-size business owners in the U.S., El Salvador, Guatemala and Afghanistan. More than 32,000 family members depend on the jobs these Fast Runners provide.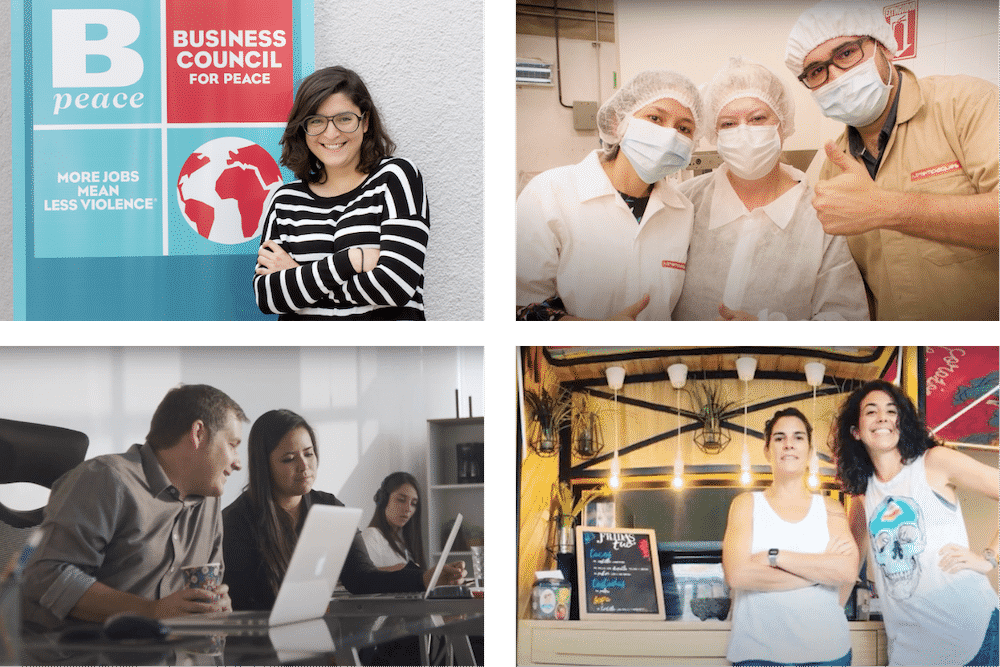 In struggling communities, we administer a robust, competitive application and interview process to recruit high-potential small and medium-size businesses (Fast Runners).
Our 18 years of experience inform our selection of Fast Runners who possess the winning combination of motivation and growth opportunity.
— Mobilize Skillanthropists
As talent scouts, we actively recruit business experts to volunteer their skills and time. We guide them in skill-based volunteering, and wrap them in a community experience.
Providing Fast Runners access to Skillanthropists generates a powerful and productive collaboration focused on innovation, transformation and growth.
More than 60% of the businesses we advise are women owned or led and they often outperform their counterparts in terms of revenue and job growth.
Businesses that work with Bpeace grow significantly more than their local economies. The jobs they create stabilize families and communities.
WHERE WE CREATE JOBS AND WHY
United States
Black-owned businesses are more than twice as likely as their white counterparts to have shuttered due to the COVID-19 pandemic, with similar rates for Latino and Asian-owned businesses. Bpeace Skillanthropists are working with Black, Latino, Asian and women-led small and medium-size business owners to ensure the U.S. rebuilds in a more inclusive and equitable way.
Guatemala
Even as Guatemala begins to stabilize, violence and extortion by gangs are still key issues. Gang-related violence is an important factor prompting people, including unaccompanied youth, to leave the country. The portfolio of businesses our Skillanthropists advise is concentrated in the food processing, technology, manufacturing and services industries.
El Salvador
El Salvador remains one of the deadliest countries in the world outside war zones. Turf wars between gangs drive violence and perpetuate inequality and insecurity. Bpeace Skillanthropists are advising significant job creators in the following sectors: technology, pharmaceuticals, medical, construction, and warehousing and logistics services.
Afghanistan
With the prospect of peace in Afghanistan, the opportunity for business resurgence gave Bpeace the impetus to reassume activity in the country after a two-year pause. We have deep ties in Afghanistan and female and male business owners in Kabul, Herat and Mazar have access to Skillanthropists through Bpeace Connect.
Maribeth Fox, Bpeace Skillanthropist since 2009, U.S.
"Bpeace is a beacon of light in the darkness for business owners and entrepreneurs, for women, and for the communities they support. The strategic thinking and brainpower behind the organization is massive. The results are clear. I am proud to stand with Bpeace."
Javier Guerrero, Happy Punk Panda Digital Media, El Salvador
"A lot of people recommended Bpeace, but when we applied I had a lot of skepticism if they would understand our needs as a small emerging Salvadoran company. It took just one meeting to know that the Bpeace team is amazing. You instantly begin growing as a company after a few sessions. I am so grateful to Bpeace."
READY TO MAXIMIZE YOUR IMPACT?
Business owners​
Are you driven to create more jobs for your community? Could you use some expert strategic guidance to help you grow?
Business Volunteers
Would you like to do more with what you know, and witness the difference your skills and knowledge can make? Do you have some flex time to volunteer?
Donors
Whether your focus is empowering women, lifting underserved communities, international development, the climate and refugee crisis, Bpeace is an impactful investment for your philanthropic gifts.