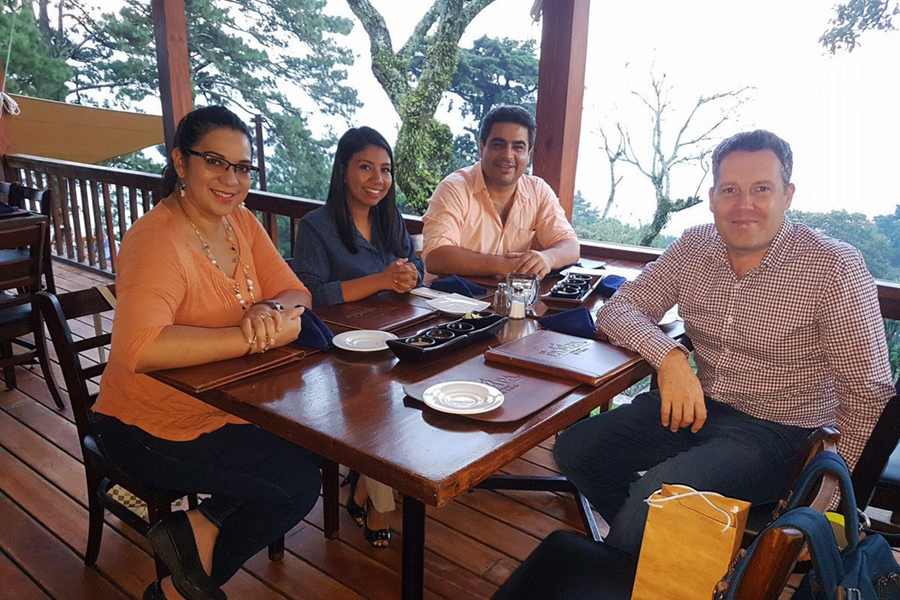 By

Justin Harlow
An update to the Bpeace Skillanthropy community by Justin Harlow.
Justin Harlow is the Founder & CEO of Lateral Labs, a global innovation agency dedicated to divergent thinking and rapid change. He is also Editor of the innovation publication and podcast Skunks & Soap. He recently served as a Traveling Skillanthropist, leading an innovation popup lab in El Salvador for Bpeace Fast Runners and the local community.
My week in El Salvador was packed! I delivered a keynote presentation, "Breaking Predictable Patterns to Think Differently," conducted two group workshops and led seven one-on-one innovation workshops with individual Fast Runners. I'd love to tell you some things about my travels around El Salvador, but Florence de Sola, the Bpeace Country Manager, packed my trip so tight, I didn't have much time to take in the sights. That being said, I met great people, learned a lot and even had my first ever meeting on the side of a volcano.
We started the week with an innovation popup lab sponsored by the U.S. Embassy in San Salvador. Bpeace and Embassy guests included more than 100 current and former Bpeace Fast Runner business owners, as well as Salvadoran professionals from the worlds of business, government, academia and the arts.
To start things off, I gave a 45-minute opening keynote, delivered in English with simultaneous translation. To be honest, I wasn't sure if everyone was taking it in. But it soon became clear that they were. I lost count of the questions people asked, but I was blown away by their quality.
Justin Harlow delivering his keynote on "Breaking Predictable Patterns to Think Differently".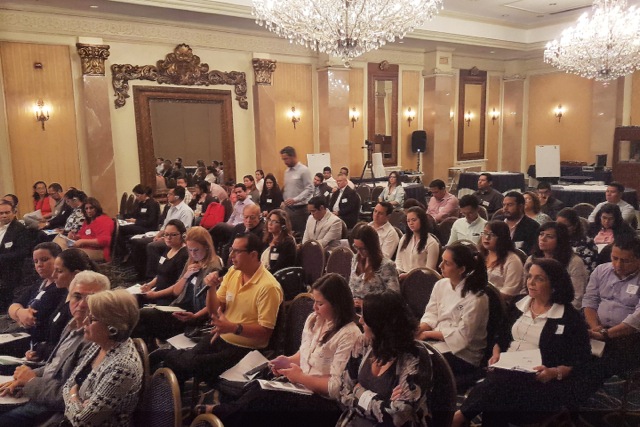 A local artist asks a question (we curated a broad audience to ensure diversity of thought).
SOLVING REAL CHALLENGES IN 45 MINUTES (OR LESS)
To put some of the techniques I shared into practice, we split the group among eight tables, and encouraged diversified thinking by seating people with professionals they hadn't met before.
For the first challenge, guests considered ways to help Roberto Palomo, a serial Salvadoran entrepreneur, generate revenue from Alertux, his online reporting platform. Over the course of the session, guests applied revenue models of famous companies, such as McDonalds, Virgin and Disney, to Roberto's challenge.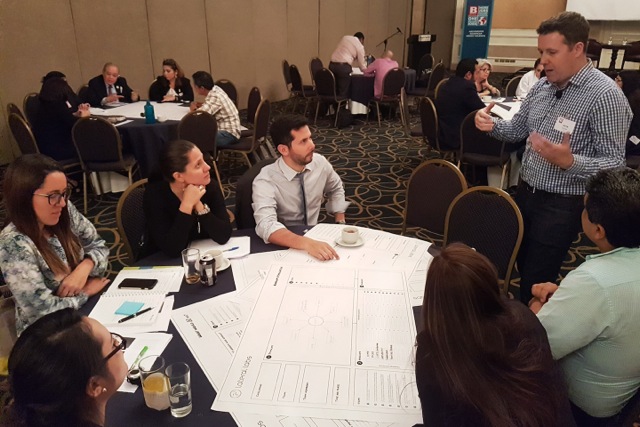 This table won the first group workshop challenge, nobody had ever met before, diversity of thought pays off.
The artist was really involved, it was great to see as these voices are not often heard in business.
For the second challenge, we worked with Renata de Flamenco, co-founder of the confectionary company Tuco y Tico, on ways to gain employee respect (a big thank you to Renata for being so open and honest with this personal challenge). This time guests used Random Stimulation to break free from predictable thinking. This technique involves employing random words, such as cactus, coffin and underwear, to discover new ways to command respect.
At the end of the challenges, teams pitched their solutions. Roberto and Renata each selected a winner of a free two-hour workshop with Lateral Labs. The high level of engagement surprised me. Florence had cautioned that Salvadorans are conservative and might not open up. Actually, we found the opposite. Maybe it was the diverse group we curated, or the desire to help fellow Salvadorans. Maybe it was the tools and techniques we used. Maybe it was luck or maybe all of the above. Whatever the reason, it worked.
INSPIRATION RANGING FROM GWEN STEFANI TO APPLE RETAIL STORES
For the remainder of the trip we worked with the Fast Runners in one-on-one innovation workshops. Getting to know the Fast Runners was a highlight.
Before flying to El Salvador, we asked the Fast Runners to identify three challenges that were inhibiting their growth. The challenges were as varied as the solutions. In one case, we helped a local creative agency breathe life into their mission by incorporating lyrics from Gwen Stefani. In another, we employed the Apple retail store model to help a furniture manufacturer transform their factory and showcase their workmanship. Every session was so different.
Here we're working with Tornolara, using inspiration from McDonalds to drive production efficiency.
Working with Innovation Display to turn their factory from something they hide to something they showcase.
NEXT STEPS
All in all, it was a fantastic trip. We've already started talking with Bpeace about how Lateral Lab's innovation techniques can be applied in other areas to further Bpeace's mission. In the meantime, I look forward to my next trip to El Salvador. Maybe I'll even stay an extra weekend to see more of what is by all accounts a truly beautiful country.
---
Justin Harlow started Lateral Labs to help people solve their most stubborn challenges in 2 hours (or less). Whether it's through their virtual workshops, innovation popup labs or Outdustry events, Lateral Labs is helping people to create brighter futures for themselves and their organizations. He also started the online innovation publication Skunks & Soap, which is dedicated to those who dare to be different. Follow him on Twitter @justinpharlow.