From the Oscars to Carnegie Hall, Afghans showcase their talents
By

Ashley Harden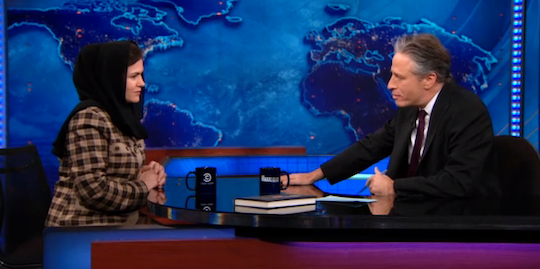 Fawzia Koofi speaks on The Daily Show with Jon Stewart on February 13, 2013. Image courtesy of The Daily Show.
Afghanistan is everywhere you look – and not in the way you would expect. From Carnegie Hall and The Daily Show to the Oscars and the Grammy's, Afghan artists and opinion-leaders are suddenly high profile. They are showcasing the best of their country through arts, culture and sports. The Afghans and Afghan Americans amongst the Bpeace membership offer their insights on why they believe their country is on a roll.
Afghan artists show the world why their country should not be forgotten
Kicking off the 2013 season at Carnegie Hall was an unusual troop of performers. Boys and girls from the Afghan National Institute of Music in Kabul played in front of captivated New Yorkers at Lincoln Center. At the Kennedy Center and other U.S. government venues in Washington, D.C. they also performed for some of our country's most prominent policymakers, including Secretary of State John Kerry.
In a country where music was banned and musicians were jailed under the Taliban, these children (some who used to be street kids) are using music to rebuild their lives earn an education. They are teaching Americans that there is more to Afghanistan than conflict and extremism. As American violinist William Harvey, the Afghan youth orchestra's conductor, told the New York Times, "We are showing people not to give up on Afghanistan."
Showcasing this culture of hope in Afghanistan is the Oscar nominated short film Buzkashi Boys. The Afghan film generated Oscar buzz when it was nominated in the Best Live Action Short category. Although it didn't win, the film's nomination has been described as a "source of pride for Afghanistan." The film (funded by the U.S. Embassy in Kabul) is part of the Afghan Film Project. The initiative works to support and train aspiring Afghan filmmakers to tell their own stories, with the larger goal of helping to grow the Afghan film industry back to its former glory.
[caption id="attachment_3313" align="aligncenter" width="540"]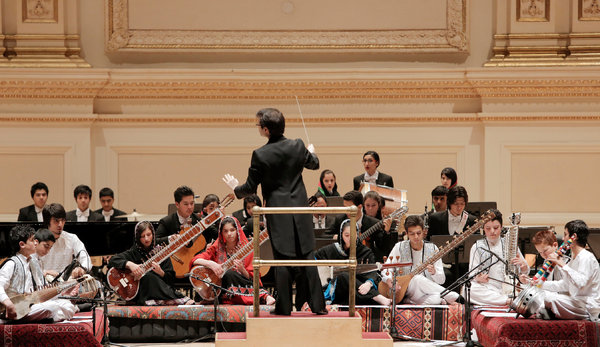 Ensembles of Afghanistan National Institute of Music with William Harvey conducting at Carnegie Hall. Photo by Jennifer Taylor, courtesy of The New York Times.[/caption]
Afghans leading change
When talking about her home country, Bpeace volunteer and New Yorker Palwasha Siddiqi says it is "heartwarming to hear about these positive events... it's about time the focus shifted to the good happening so that Afghans all around the world are encouraged to participate in continuing this positive change." Palwasha believes that transformation must come from within the country because "no one else will be able to bring peace to Afghanistan but its own people."
Afghans like Fawzia Koofi fight for the grassroots change Palwasha mentions. Koofi, a female Afghan Parliamentarian and potential 2014 Presidential candidate made splashes all over the U.S. media this year. Left to die at birth, Koofi struggled to earn an education and is now a major political change-agent in Afghanistan. During her interview on The Daily Show, an awe-struck Jon Stewart tells Koofi, "Your story is so astonishing and so inspiring… it's humbling."
Afghan artists gaining confidence in their work
Beyond the small screen, Afghans are breaking through America's music industry. A Grammy award for the best New Age Album recently went to Afghan musician Omar Akram for his album "Echoes of Love".
Bpeace member/volunteer and New Yorker Fahima Ahad believes that these cultural achievements are occurring because of "years of hard work" and a conscientious "push for progressive movements within Afghanistan's entertainment industry."
When talking about her cultural homeland, New Yorker and Bpeace volunteer Nazifa Danishgar agrees. She explains, "Afghans are gaining confidence in their work." After years of "borrowing heavily from the cultural expressions of others, Afghans are hungry to display their culture and share their own stories."
Bpeace is seeing this cultural emphasis on the ground with the number of our Fast Runners engaged in the arts. We support five filmmakers, including film producer Alka Sadat who is organizing the country's first Women's Film Festival in Herat. The festival will showcase films from women filmmakers and be held in March in honor of International Women's Day. Guissou Jahangiri, Executive Director of Armanshahr Foundation – one of the many non-profits supporting the film festival – heralds the event as "a breakthrough in today's Afghanistan." To learn more, visit the event's Facebook page.
For those interested in viewing Afghan films but unable to travel to Herat, the Guggenheim will be screening Afghan films from the 1960s to the present, as part of their "History of Histories" exhibit, from now until April 2013.
Afghanistan: a cultural center and place for international tourism
[caption id="attachment_3354" align="aligncenter" width="560"]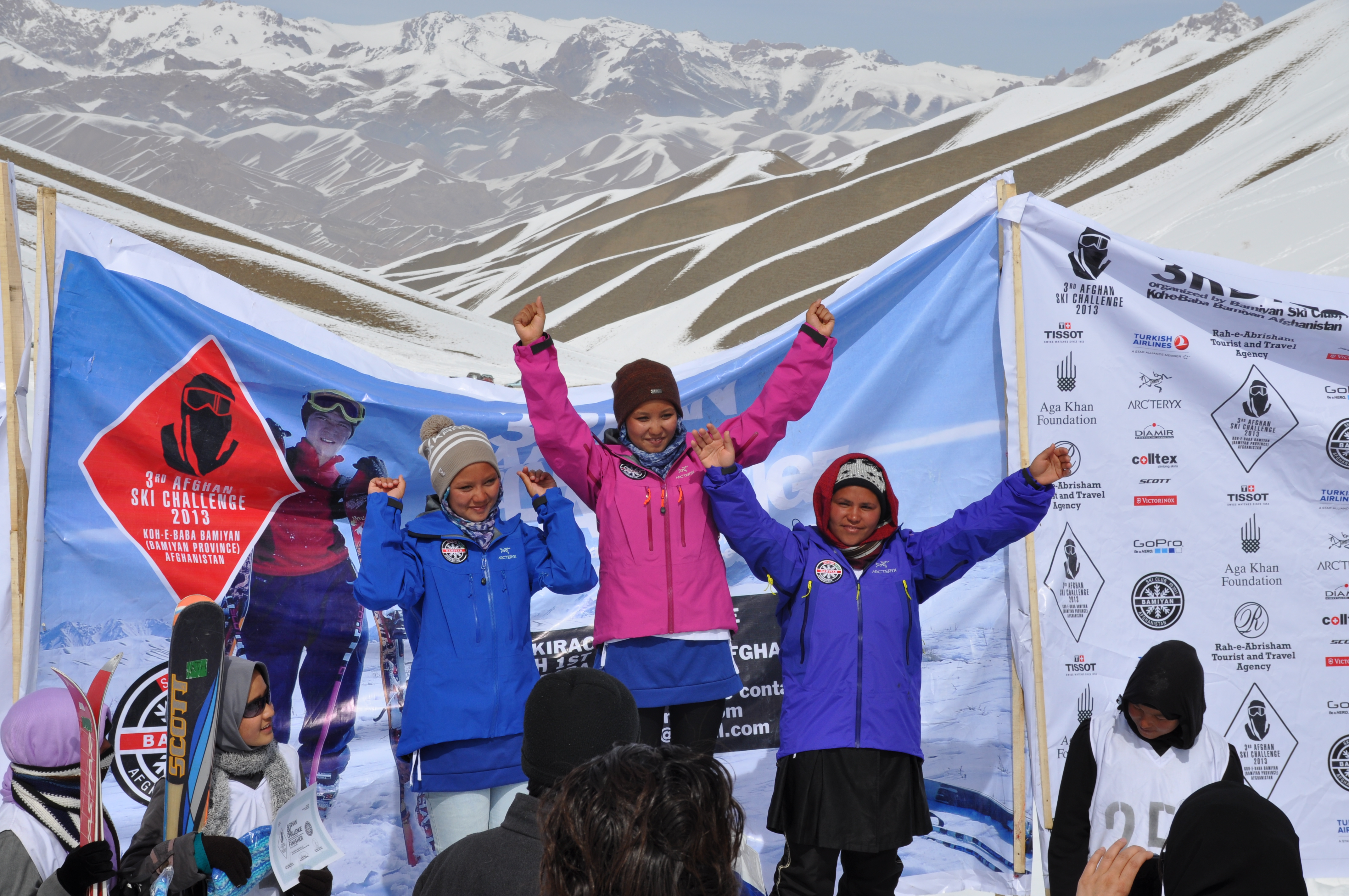 The female winners of the Third Afghan Ski Challenge celebrate on the victors' podium. Image courtesy of Gull Hussian Baizada, one of the organizers of the competition and Bpeace Afghan Fast Runner.[/caption]
Beyond the arts, Afghans are making their mark in sports. In a bid to attract international tourism, race founder Christoph Zurcher organized the third Afghan Ski Challenge, with the support of the Aga Khan Foundation and the Rah-e-Abrisham Tourist & Travel Agency, run by Bpeace Afghan Fast Runner Gull Hussian Baizada. The event took place in the Hindu Kush in Bamiyan in March. According to Gull, "The event signifies that life for Afghans is moving forward towards a peaceful future. Women and men can compete in sports such as skiing, enjoying the freedom and beauty of the mountains in their country they are proud to live in. It was a day where all those involved laughed, celebrated and raced down the mountains in healthy competition, alongside people from all over the world. Here in Bamiyan we are proud to be planning for a peaceful future."
The Afghan skiers left the international athletes in the dust, with all of the Afghans finishing ahead of the 14 foreign athletes racing. As racer Brenton Earl, a player with the Australian Football League, said, "The Afghans were just dominating... They're real good."
When talking about the significance of the race, Habiba Sarobi, Afghanistan's only female governor explained, "We want to introduce Bamiyan as a tourist destination to the world... [Afghanistan has] a lot of good opportunities and nice places like Bamiyan where tourists can come."