A conversation with Renata Moreno, founder of Tuco & Tico bakery in El Salvador, and a Bpeace Fast Runner.
She remembers the early days fondly. "In the beginning, I had a small, compact car that was my everything, including purchasing and delivery. I would go to the market in the morning, bake around noon, deliver in the afternoon, and do all the planning at night. It's been an amazing journey, and I know that there is much more to come."
Renata Moreno has much to be proud of: "It was only me, and a few people who helped. Now we're actually producing jobs–we had a 40% increase in jobs since last year. It's breathtaking! It's amazing to me that an idea that started in here," she says, pointing at her temple, "is actually helping Salvadoran families have better lives."
HOME IS WHERE THE BUSINESS STARTED
Tuco & Tico started out as a home bakery, in the home of Renata's parents in El Salvador. High-quality products propelled them towards rapid growth. Renata remembers when they were baking 12,000 cookies per day from a home oven. "It wasn't like we had the right tools to do the work, but the work was coming to us faster than we could handle." Within two years, they had two retail locations and were also producing private label products.
Recognizing that the opportunities ahead of them were not without their share of challenges, they sought help. "We feel like someone took us by the hand and said, let's walk this path together. Bpeace Skillanthropists came in right at the moment–just when we needed them."
To cope with what Renata describes as snowball growth–she learned to hire more people and delegate. "As a small business owner, it is really hard to do everything. Bpeace taught me that I have to know what I'm good at and where I'm really needed, and not waste my time where I could delegate and create a new job. There was a lot of strategic planning needed on my part, no longer just baking."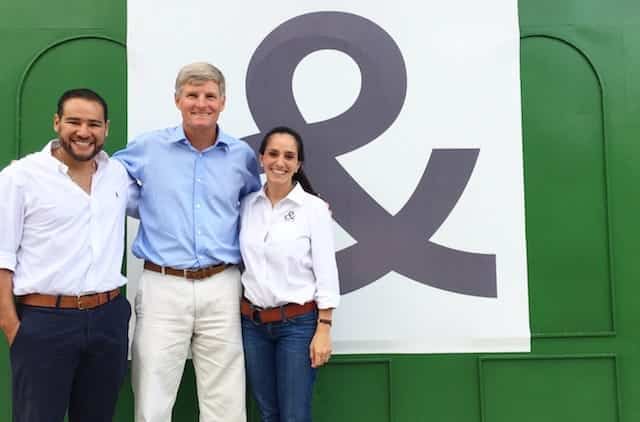 BALANCING RETAIL AND PRIVATE LABEL
Renata describes working with Bpeace like winning a scholarship. One of the first experts she met with was U.S.-based Bpeace Board Chair Mark Fleming (in the photo above). Renata vividly recalls his words: "You have a diamond in the raw that is ready to be polished," he said. Mark's visit sparked clear and immediate action for Tuco & Tico. "It was the tipping point of change for our business. We opened our third store two months after his visit, and have adopted the 50-50 strategy that he recommended to balance our retail and private label lines." A year and a half after his visit, they are still implementing bits of Mark's advice, including opening a fourth store, and moving to a larger production plant in January of 2018.

Renata is proud to point out that even though they have grown, their quality is unfailing. "We are constantly delivering the same product. We are still using quality butter. We still have that exquisite, homemade, gourmet taste," she says, eyes wide open with enthusiasm.
REFINING THE BRAND

Another Bpeace Skillanthropist was crucial in reinforcing the Tuco & Tico brand. Renata felt a sense of relief when Clara Henning confirmed that their brand was actually projecting what Renata intended. Now, their focus is on implementing Clara's advice to polish the brand and make it even more precise. "We want the pops of color in our store to come from our products. Everything else is white. We want clients to know that what they see is what they get," Renata says convincingly.
Renata is aware that growth is a process, and they are certainly not hasty investors. "You just have to be consistent in whatever you are doing. In the long run, you are going to see results."
TRANSLATING BIG IDEAS
At Renata's request for operations improvement, Skillanthropist Bruce Dougan dropped in while in El Salvador. That single impromptu hour, she says, was a game changer. "He showed how we could reduce mistakes and waste by introducing visual cues in our production. We now include photos of the process for our production team–all the way through to packaging."
San Francisco-based Skillanthropist Karen Majerus (in the black hat and tunic above) was at Tuco & Tico for a week. "The fact that someone like Karen would share her time and knowledge with us was amazing. It wasn't even just about work–it was a personal experience. That week was about opening up and learning from another successful businessperson who came to our little shop in El Salvador. We saw all of this experience and found a way to translate it to our situation. Karen helped us with our inventory management. Now I actually know where I'm spending, and where my money is."
"Because of all the tips and experts' advice that we've followed by the book, combined with our team's efforts, we've increased sales by 46% in one year. Bpeace has given us a global vision that we can execute locally. Even though we are not that big, we are acting as if we were by implementing all the advice we've received. And it's worked! It's not magic. It's our hard work that's working."
RENATA'S TIPS FOR BUSINESS SUCCESS:
"It's better to grow organically, than to invest money you don't have to get the perfect machine, or the perfect brand–that's not what will make a business successful. You can't force growth."
"Play bigger than you really are. Believe in your project and yourself. If you're not projecting a bigger you, you won't be able to grow."