Unlike many of Bpeace Fast Runners, Claudia Duarte de Vásquez is not an owner/founder. Elsy's Cakes is a nostalgic Salvadoran bakery brand that was established in 1956. When Claudia and her family became involved with Elsy's, it was to provide administrative and financial consulting to the second and third generation owners. The more involved she and her family became with Elsy's, the more confident they were about their ability to revive the once-thriving business. Claudia and her family slowly eased into a purchase that was finalized in July 2014.
In order to scale up, they had to scale back
Claudia's first goal was to get the finances in order: she focused on reducing debt, cutting losses, and scaling down to a manageable size. They reduced the number of stores from 10 to five in the first years of the new administration. To increase sales, Claudia hoped to balance storefront sales with B2B sales.
When Claudia joined Bpeace as a Fast Runner, her pragmatism quickly shone through: she wanted to focus on identifying and increasing profitability per product and continue polishing their newly instituted administrative structure. Matching Claudia with an ideal Skillanthropist was easy—she was clear on what her goals and challenges were, and with her straightforward nature, it was clear to see she would make the most of a Skillanthropist's time.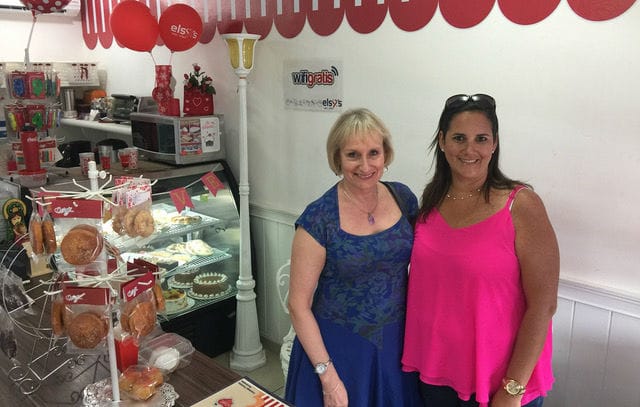 U.S. advisor Karen Vander Linde (above left) was in El Salvador to lead a Bpeace workshop on Change Management. Karen offered to spend two subsequent days with Claudia (above right) who had prepared by developing a detailed scope of work and agenda, which she then shared with Karen over video conference. Karen recalls: "I had a sense of who she was before we were working together."
Clear data helps make objective decisions
During an intense two days at Elsy's main production facility and administrative hub, the team reviewed product lists, sales processes, results, and financial data. "Claudia had great data on her business which made it easy for us to do our analysis," says Karen. "We visited competitors to understand her positioning. We also visited their different types of stores—the older stores, the new kiosks. We also tested their products. She had given a lot of thought to what she wanted us to see."
Karen and Claudia then dove into tackling their goals:
They narrowed Elsy's product list to make room for the most profitable products.
They identified Elsy's most profitable clients and came up with simple strategies for upselling and cross-selling to those with underlying potential.
They reviewed their existing stores and identified the need for an ideal store- a prototype which all other Elsy's storefronts should aspire to become.
And among other things, they confirmed the need for Claudia to keep working towards gaining new and larger clients.
Persistence is key
A little over a year after Karen's visit, Claudia confirmed she is a meticulous business owner with an unwavering desire to succeed. Elsy's increased its B2B sales by 50%. They even opened a new storefront at one of their sister companies, increasing sales to them by 450%.
Claudia revealed with pride that they found and purchased the prototype store that they want to model all others after. This new storefront is in a popular shopping center where they already had an Elsy's store, yet the stores are far enough from each other that they might as well be in different shopping centers. It now has the highest traffic among all seven Elsy's stores, averaging 200 daily tickets. "With the opening of this shop, we have hired four more people in sales, and one more person in production. We will hire two more for production and one more for logistics in the near future," says Claudia.
Claudia brought passion and objectivity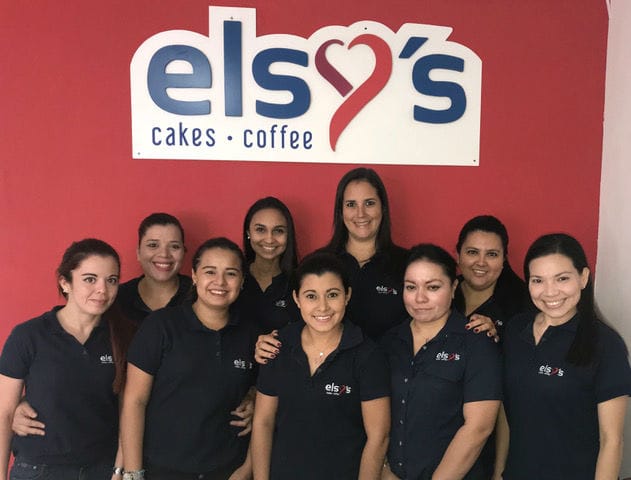 Karen says admiringly, "She had the pieces—we just had to put them together to say, this is what they could be doing. Sometimes, founders have passion and lack objectivity. Claudia brought both objectivity and passion to the table, and that is what has made her successful."
Claudia's tips for other business owners:
Believe in your brand and your products. You have to be your business's best client, and portray that to others, including family, friends, and peers.
Learn to separate personal from professional. If you work with family, it's important to set forth your goals and try to achieve a positive result at the end of each period. If something is not profitable, it's important to make quick decisions.
If you have a family business, it's just as important for you to include family members as well as external members on your Board of Directors. Your board meetings will be enormously enriching if you do.