Brandt Smith knew his company, SGS Contracting, was ready to grow. To do that, he needed to drive efficiencies through better financial and operational processes. There were plenty of programs out there to support minority-owned-and-operated businesses like his, but none were targeted to help him build the operations plan he needed to take SGS to the next level.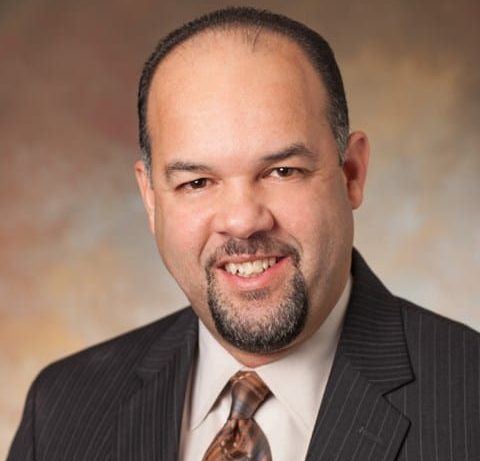 Enter Bpeace, which connected Brandt to Luis Tejada, an accomplished sales leadership and strategic marketing consultant who understood Brandt's challenges. The two bonded—both Brandt and Luis come from entrepreneurial families, and they share experience in the construction sector. Luis volunteered his skills and expertise, backed up by the Bpeace team, which provided coordination, tools and a roadmap to success.
About Brandt and SGS
Brandt had gotten a degree in finance in 2003 and considered starting out as a bank teller, but he decided sitting in front of a computer all day was not for him. Instead, he got an entry-level job in a construction company through a family friend. He discovered he preferred being outside, walking sites, interacting with people and seeing things get built. Brandt climbed the ranks from field engineer to independent project manager and gained experience working in large markets, including Washington, DC; Las Vegas; and New York City. He eventually returned to school to get a master's in construction management and became LEED-certified. In 2014, he launched SGS Contracting in his hometown of Durham, North Carolina. 
Today, SGS Contracting is a full-service general contractor that provides new construction, renovations and upfits for commercial, education, healthcare and municipal facilities.
Starting the Jobs Maximizer Program
Bpeace had worked overseas for almost 20 years and had seen its model produce results. In 2021, Bpeace launched a Jobs Maximizer pilot that showed that minority-owned businesses in the U.S. could also benefit from Bpeace's network of seasoned business experts and its focus on providing customized consulting targeted to the needs and opportunities of each business.
Brandt entered Bpeace's second U.S. cohort, developed in partnership with the Association for Enterprise Opportunity (AEO) and powered by the Truist Foundation. While he benefited from Learning Lab workshops and Ask the Expert advisory sessions, it was the Growth Project he carried out with Luis Tejada that was the heart of the program.
Collaborating to Unlock Growth 
Brandt and Luis collaborated on two crucial aspects of the business: HR and operational processes. Together they enhanced back-office functions and created a scalable structure for SGS Contracting. To tackle the challenges of operational efficiency, Brandt and Luis began by creating comprehensive job descriptions for existing positions and potential future recruits. This exercise helped Brandt identify gaps in his workforce and develop a strategic plan to fill them. 
The next step was to introduce simple yet effective routines within the team. They shifted from texts to using emails to document client interactions, established weekly coordination meetings for improved internal communication and empowered employees to make decisions autonomously. 
"Brandt encountered a challenge that many entrepreneurs encounter sooner or later," says Luis. "They have a fantastic idea, their business is thriving, but how do they take it to the next level? Our approach was to establish the necessary infrastructure and processes, enabling Brandt to assume a leadership role in managing the business while simultaneously empowering and elevating his team." 
Increased Revenue and a New Job Created
SGS Contracting's team embraced the changes introduced, allowing Brandt to focus on pursuing new opportunities with larger firms and projects. SGS Contracting achieved remarkable milestones in 2022, doubling its revenue and profits compared to the previous year. Notably, the collaboration also led to the creation of one new job. That's especially gratifying since SGS's vision is not only to provide exceptional returns for its clients but also to develop fulfilling careers for its people.
Brandt's work building client relationships will take time, but he anticipates significant growth in sales by the end of 2023. As he reflects on his journey, he credits how Luis's perspective helped him view his business and its challenges differently, driving substantial progress. Moreover, the Bpeace program motivated Brandt to hold himself accountable for his business goals, dedicating time to plan SGS Contracting's continued growth in the North Carolina construction industry. 
"The biggest takeaway is that I have to carve out time to work on where I want the business to go," says Brandt, "how to get it there, what steps I need to take–and it's a constant moving target."