[New Jersey, June 5, 2023] On May 23, 2023, BioCentriq, a leading boutique biotechnology company, hosted a group of 10 Salvadoran business leaders representing Laboratorios Suizos, Laboratorios Hifar, SYM Lab, Meditech Laboratories, and Laboratorios Rodim as part of an exclusive visit organized for the Bpeace Pharma Maximizer Program. The visit aimed to foster knowledge sharing between BioCentriq and the participants, offering valuable insights into the company's cutting-edge research and development efforts. The Bpeace Pharma Maximizer Program, in partnership with and with funding from the USAID Economic Competitiveness Project, supports the growth of Salvadoran pharmaceutical manufacturers in the Association of Pharmaceutical Laboratories of El Salvador (ALFA). By connecting Salvadoran business leaders with industry experts and innovative companies like BioCentriq, the program provides them with valuable opportunities to expand their knowledge and improve how they operate, as a catalyst for growth and job creation. During the visit, the participants explored McKinsey's Digital Capability Center, which is operated by BioCentriq and is one of many centers around the world designed to demonstrate the application of Industry 4.0 approaches and digital use cases to traditional manufacturing. The participants experienced use cases including virtual reality training, hologram-based process improvement practices, and advanced data-driven product testing simulations—gaining firsthand knowledge of how these technologies are used to improve employee performance and production processes.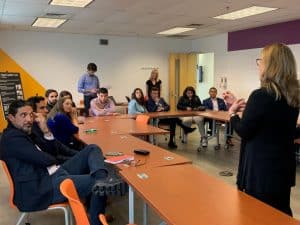 In addition, the Salvadoran business leaders had the opportunity to engage in insightful discussions with BioCentriq's leaders and experts, including CEO and founder Haro Hartounian, Chief Quality and Compliance Officer Jackie Panter, VP of Marketing Amy Lamperti and Executive Director of Manufacturing Robert Braddock. These interactive sessions facilitated the exchange of ideas, best practices, and industry trends, empowering the program participants to enhance their own businesses and contribute to the growth of El Salvador's pharmaceutical sector. "Visiting BioCentriq was an eye-opening experience for the Salvadoran businesses we support. Learning about BioCentriq's best practices in quality systems and observing firsthand the advanced technology they have been developing sparked new ideas and possibilities that will go well beyond this visit," said Bpeace Chief Program Officer Isabelle Strauss.
Thanks to support from the USAID Economic Competitiveness Project, this collaboration between Bpeace and BioCentriq strengthens ties between Salvadoran and U.S. businesses and promotes sustainable development in El Salvador's pharmaceutical industry. By providing these business leaders with access to BioCentriq's expertise and resources, the Pharma Maximizer program accelerates their growth trajectory and equips them to drive innovation in their respective enterprises. "We were thrilled to host the participants of the Bpeace Pharma Maximizer Program at BioCentriq to both share our knowledge and expertise and learn more about the market and the opportunities and challenges facing business leaders in El Salvador," said Lamperti. "Collaborative initiatives like these play a vital role in fostering economic development, and help us become stronger participants in a global economy."
Business Council for Peace (Bpeace) is an award-winning nonprofit working in crisis-affected communities to grow small and medium-size businesses, create significant employment for all and expand the economic power of women. More jobs mean less violence.® For more information, visit bpeace.org.
BioCentriq is a full-service, collaborative CDMO (contract development and manufacturing organization) for cell and gene therapy, focusing on all stages of process development and clinical manufacturing. The company was purchased by GC of South Korea for $73 million in 2022. With over 90 scientists, engineers, analysts and manufacturing specialists, the company has established quality systems and the infrastructure required to support the release of autologous and allogeneic drug products. BioCentriq has been manufacturing drug products for use in human clinical trials since 2022. For more information, visit BioCentriq.com.