Kristen Sumpter, aka 'Red,' and Ed Sumpter were born and raised in Wilmington, North Carolina, and in college they grew to love local spots showcasing beer in self-serve coolers. After moving to Atlanta, Kristen's mission was to find a similar "cool beer spot," but it just didn't exist. Ed eventually convinced her to dream a little, and in the fall of 2019, Red's Beer Garden was born.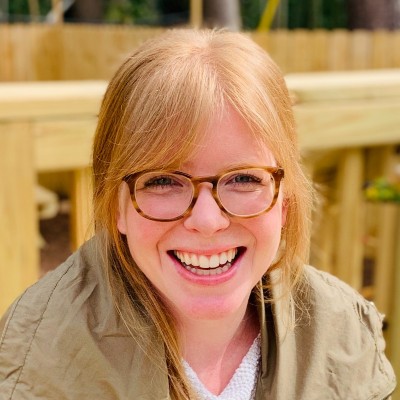 In early 2022, Kristen decided it was time to take the business to the next level. She joined Bpeace's Job Maximizer program with one purpose in mind: optimize Red's Beer Garden's profitability. Enter Zach Flanzman, the Skillanthropist assigned to Kristen's business—a seasoned expert as the President and Chief Operating Officer at Brown Bag Seafood Co. Zach and his talented Brown Bag colleagues—Sidney Jankauskas, Director of Revenue, and Donna Lee, Founder and CEO—provided Kristen with strategies and customizable tools to create accurate profit and loss statements, refine budgets and make informed decisions for cost optimization and profitability maximization. He and his team acted as allies, assisting Kristen in adopting effective leadership practices and abandoning unprofitable strategies, clearing the path for sustainable success.
"I feel like I am ending a crash course in owning a restaurant. Zach is an incredible communicator, teacher and leader. He always seemed to immediately understand my strengths and weaknesses with a topic and run with it. The work I've been doing with Zach and Brown Bag has honestly been what I have been looking for, for three years."
Kristen's transformative journey with Bpeace and Zach resulted in an impressive 22.5% increase in profits in 2022, as well as elevated customer satisfaction and higher employee engagement and retention rates. Through her openness to learning, personal growth and commitment to excellence, Kristen was armed with newfound confidence and enhanced leadership skills. Because of the support received through Bpeace, Kristen now approaches challenges with resilience and a strategic mindset, and is ready to lead Red's Beer Garden toward continued success.