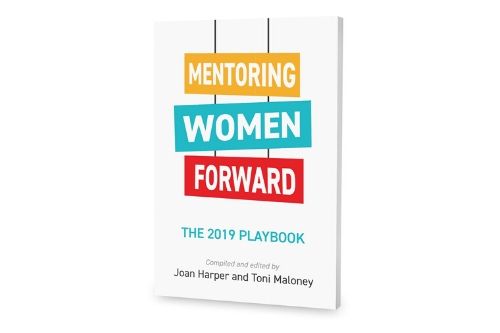 By

Joan Harper
You can level the playing field when it comes to compensation by learning the tactics of a skilled negotiator or by eliminating the need to negotiate altogether.
Liz Smith, Senior Managing Director at global asset management firm AllianceBernstein, honed her negotiating skills over 30 years in the financial services industry. She has mentored hundreds of women and believes the way forward for pay parity is by providing women with the language and confidence to ask for what they want.

Liz Smith, AllianceBernstein, and Women Forward winner and 2020 judge
Matt Cooper, CEO of Skillshare, the online learning community with thousands of inspiring classes for creative and curious people, believes that talent is equally distributed, but opportunity and education often are not. The solution he rolled out at Skillshare is a no-negotiation compensation for all staff, based on a grid of skill sets and not a person's ability to negotiate.

Joan Harper, Bpeace with Matt Cooper, Skillshare, and Women Forward winner and 2020 judge
Both Liz and Matt were 2019 Bpeace Women Forward Award winners, and this year they are judges for the 2020 Women Forward Awards.
The Bpeace Women Forward Awards recognize innovative companies and inspiring individuals who are seeding the future by mentoring women business leaders. Nominations for the 2020 awards are open now and run through February 28. Winners will be announced in April and be honored at a celebratory breakfast on June 4 at the Yale Club in NYC.
Use powerful language
Liz's experience at AllianceBernstein taught her early on the importance of creating a network of women professionals to talk with about issues such as how to get on a corporate board and pay parity. Learning the language and skills other women used to advance themselves was an invaluable resource.
"Many women don't know how to ask for what they want. They don't know or use powerful language," observes Liz.
"Present yourself with a stance or physical presence that projects confidence," advises Liz. "If you think you are underpaid or not being paid fairly, ask for what you want. You think you deserve a particular promotion? Show them why and ask for it. And use words with power, the power to persuade and lead. If you wait to be asked, your time may never come."
Liz recommends focusing on presence, professional development and networking
How's your own presence? How's your language? What changes do you need to make to project confidence and leadership?
Join professional development programs to hone the skills and confidence you will need throughout your career.
Get a small group of trusted women together, outside of the workplace, to talk about gender, diversity, advancement and other business issues—and assess the result. Was the meeting enjoyable, productive and worth repeating? Could you see it growing over time?
Break the mold
Skillshare's business model is designed to level the playing field by delivering remote learning to anyone, anywhere, at any time, at an affordable cost. Matt Cooper made sure that the company's own HR practices were consistent with this promise.
Their own audit of the company's compensation packages revealed that there was as much as a 10% pay difference between two people doing the exact same job. Negotiating skill was a big reason for that difference. If you are the general counsel, negotiation is a necessary part of your skill set. But if you are a software engineer, negotiation has nothing to do with your role and should not affect your pay.
"Basically, we have five to six levels for every role within the company that span an individual-contributor track and a management track," Matt explained. "Depending on your level and your role, there is a set compensation, and that's where you start. Everybody starts in the same place; there is no negotiation. It ensures that we are not paying people to make it easy to get them to say yes and get them on board, but which doesn't really impact what they're doing every day and the value they're bringing the organization."
"It's been an interesting process rolling this out over the last couple of years. There are times when we knew that if we were willing to throw in another $5,000 to $10,000, we could close the candidate we really wanted, but we just have to sell around it. We have other things to sell, like our flexibility around working from home. I think it has successfully accomplished the goal of making sure that everyone is getting paid the same amount for the same work. Much of what we have done to provide equal pay and support to our employees provides opportunities that women don't find elsewhere. And these policies have been very intentional."
Skillshare made negotiating obsolete by focusing on values, equality and contributions
Ensure that the values reflected in your business model translate to the way you run your workplace. Your employees have a right to expect it.
Equally distribute opportunity to everyone by instituting a no-negotiation compensation policy based on a grid of skill sets and not a person's ability to negotiate.
Make it easier for someone with responsibilities at home to work remotely and be valued for what they contribute, not by how often they are in the office.
Liz Smith and Matt Cooper approached the same problem from two very different lenses. Liz's view was that women can be just as successful as men in negotiating their way to advancement by asking for what they want and acting the part. Matt saw the inequalities in the system and decided to change the model. Each has merit depending on where you sit in the workplace. All of us can improve on the language we use and the way we present ourselves. And we can look at company HR policies which can level starting salaries by clearly defining qualifications for all roles.
Read the book Mentoring Women Forward The 2019 Playbook for insights and action steps for any organization, woman or man to use in making their own corner of the world more inclusive, diverse and successful.
Women Forward nominations are open through February 28, 2020 for people and companies making a remarkable difference because they are doing the work needed to elevate diversity and inclusion in the workplace.