Champions of Peace Cross the Finish Line Big-Time at the 2016 Gala
By

Lauren Hass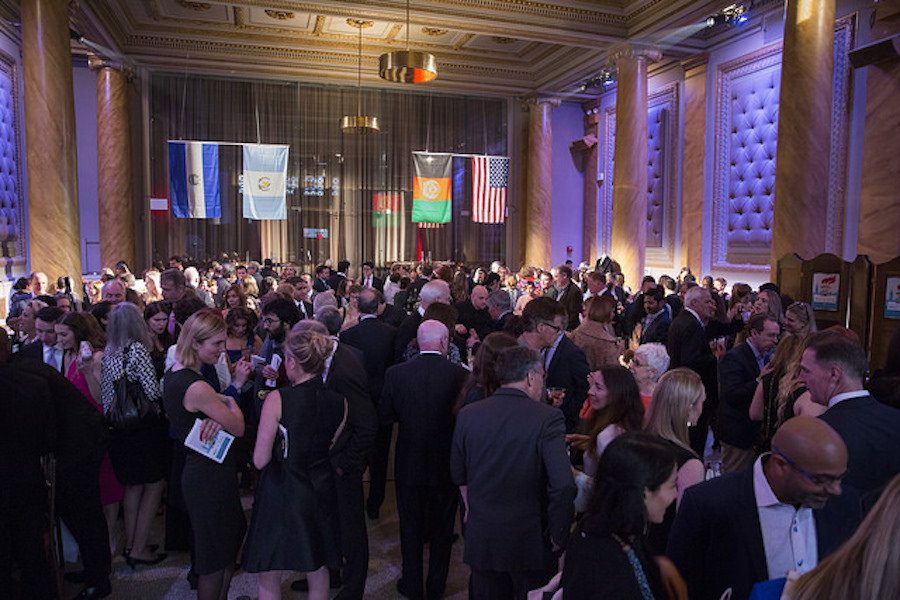 The evening paid tribute to Deborah Jackson, CEO and founder of Plum Alley Investments, as the 2016 Leader of Economic Impact. Top-notch Gold Medal martinis along with Olympic Torch spirits opened the ceremonies with a silent auction cocktail hour. Guests raced to make offers on such items as a week in Antigua, Guatemala; two tickets to the award-winning "Hamilton" on Broadway, complete with a backstage tour; and a super-fashionable Maiyet handbag and coat.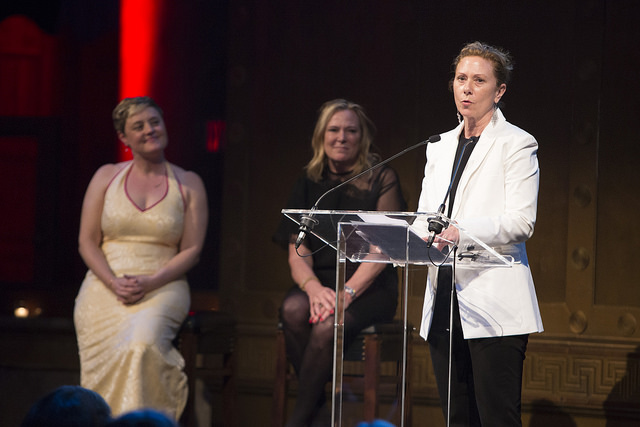 The perseverance of the Gala Committee and volunteers shone throughout the evening, from the lively presentation of more than 90 auction items, to the giving of the first annual 2016 Plum Alley Innovation Award to Fast Runner mother-daughter team Josselyn Coreas and Celina Maria Castillo of Pronavid, to the elegant dinner and fabulous entertainment. Guests also sampled Salvadoran pupusas, prepared on site.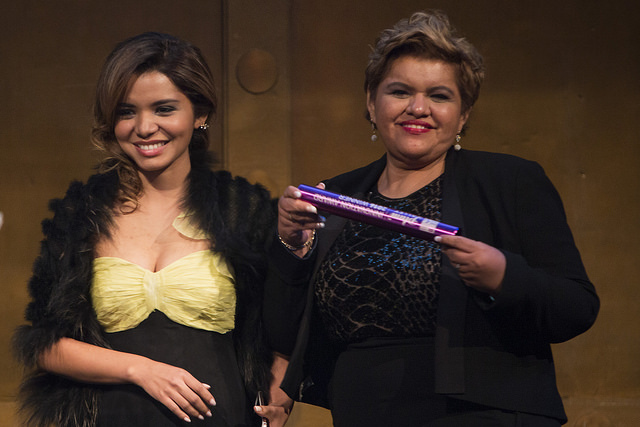 A parade of torch bearers made way for Bpeace CEO Elizabeth Crowell who welcomed Selby and Lucy Drummond to the podium to introduce their mother, Deborah Jackson. Board Co-chair Kate Buggeln then honored Deborah as Bpeace's 2016 Leader of Economic Impact, with the creation of the Plum Alley Innovation Award presented to Pronavid. After a video of Fast Runners in action, the excitement surged with live auctioneer Alan Kalter.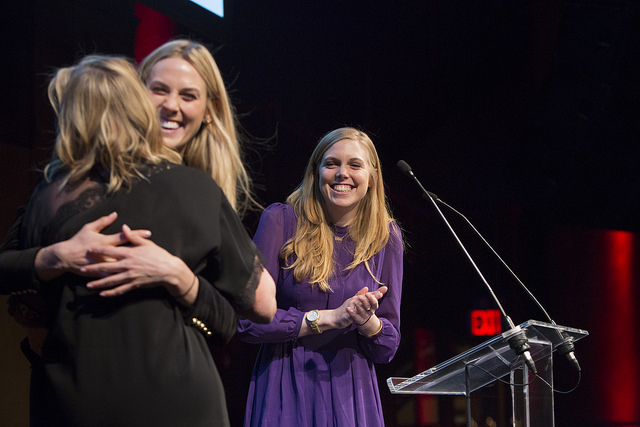 Bpeace took the Gold for a record-breaking fundraiser and the crowd's enthusiastic support of jump-starting 75 new Fast Runners in Afghanistan, El Salvador and Guatemala. Another victorious Gala.
Bpeace would like to thank Gold Sponsors PwC, Merryck & Co, and Plum Alley, as well as Bronze Sponsors: Ann Inc.; Ascena Retail Group Inc., DCL&A; Dressbarn; Irving Place Capital; Kirk Palmer Associates; Piece & Co., The Vitamin Shoppe, and UNFCU Foundation.
Finally, a thank you to our Auction Donors:
Amazing Planet Farm LLC
Ann Inc.
Aspire Private Fitness
Baby in the Family
Blue Apron
Blue Marble Ice Cream
Bradford Renaissance Portraits Corp.
Brooklyn Brine
Brooklyn Sports & Entertainment
Brooklyn Troop 2292
Cabi LLC
Concord Limo
DelGrosso Foods
EGCrowell LLC
Estée Lauder
Etsy Inc.
Feinstein's 54 Below
Five Below
Frances Carroll
Global Runway
Gramercy Tavern
Hidden Gems Archery
Idea Tribe
Iza by Silvia D ́Avila
Javier and Andrea Prado
Karlos Carmamo
Kenneth Cole
Laura Rosenthal Casting
Leisure Pass North America
Leticia Schwartz
Lisa Dubin, Architect
Liz Pulver Design
Maiyet
Manhattan Theater Club
Mark Fleming
Martha Chapman
Merryck & Co.
Mohamed Elzomor
Murray's Cheese
MZ Wallace
NBC/Cecily Strong
Nomi Network
NY Trapeze School
Playground Pups
Plum Alley Investments
rag & bone
Randy and Tammy Browning
Regina Cáceres
Rick Perkal
Royal Palms Shuffle Board Club
Samantha Razook Murphy/Curious Jane
Samba New York
Sansaire
Saturday Night Live
Sterling Place
Sweet Seidner's Bake Shop
TBS
TechDad
The Great Lerdini
The Nightly Show with Larry Wilmore
The Queen Bee NYC
The Red Sari
The Vitamin Shoppe
The Welcome Shoppe
Tiossano Tribe
Today Show
Untitled
Upright Citizens Brigade
Veronica Beard
Warner Bros. Television