Celebrating the 2015 VERAs and the Organization We Return to Year After Year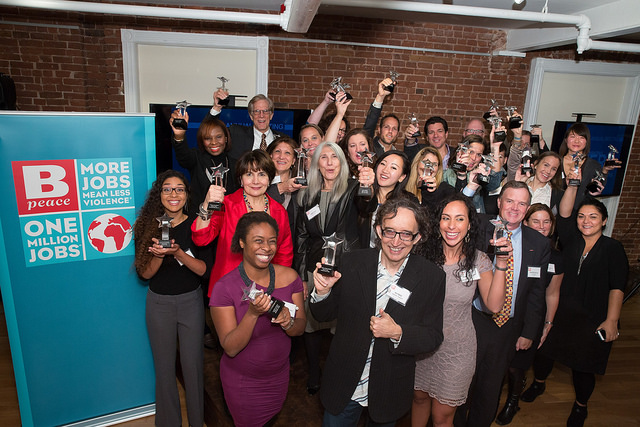 What motivates young professionals like me to consistently volunteer with one organization when there are thousands of causes asking for support?
Beyond the passion for an organization's purpose and mission, one of the most commonly desired characteristics is a strong community. Although I'm just three and a half years in—a relative newbie to the Bpeace family—it was crystal clear to me from Day 1 that this organization valued every person with whom it came into contact.
Bpeace goes out of its way to build relationships, empowering volunteers to connect with each other, with staff, with "clients" in varied settings, be it a bike ride in the Berkshires to raise money, a group dinner for the Young Professionals Leadership Council (YPLC) or traveling to Guatemala to coach a small business.
Why do I keep returning to volunteer with Bpeace? The answer is simple: the people and relationships I've built. In a competitive NGO landscape where professionals like me can shop around for the perfect fit that matches their time and interests, Bpeace not only creates unique volunteer opportunities, it also customizes them to add value to the life of each volunteer.
Thank you, Bpeace, for honoring me and many other volunteers (see official list below), and thank you for developing such fantastic volunteer opportunities for us to support!
2015 VERA WINNERS
Connector VERA
Connecting Fast Runners and Bpeace HQ with great resources
Alfred Astort-Tubert, Lorena Betanzo, Anna Callison, Jeff Castaldo, Rebecca Frahm, Rebeca Hassan, Sachal Lakhavani and Yilin Zhang
Enthusiast VERA
For being a Bpeace cheerleader and supporting new CEO Elizabeth
Cynthia Fisher
Event VERA
For making the Gala and Pedal for Peace successful fundraising events
Laura Fedoryk, Maribeth Fox, Ayanna Gabriel, Jenifer Gallup, Jessica Grandchamp, Monica Quintero, Jay Sanders and Breana Tutuska
HR Guru VERA
For finding us International Program Manager Alexandra Salas and CEO Elizabeth Crowell
Phyllis Rosen
Just Do It VERA
For going above and beyond without having to be asked twice
Laurie Chock and Platte Moring
Leadership VERA
For fearlessly leading the YPLC and the Pedal for Peace PwC team
Jordan Browning and Rachael Rho
Pillar VERA
For being members of the Bpeace community on whom we can always depend
Mojdeh Barros, Lisa Dubin, Donna Fleetwood and Gita Patel
Rookie VERA
For wasting no time getting involved
Carla Bachechi, Janice Chaka and Stephanie Rothermel
Traveling Mentor VERA
For going to Central America and working side by side with Fast Runners for a week or more
Cheryl Bartosh, Victoria Cox, Diego Darquea, Isabel Echeverria, Janis Grover, Steven Harty, Alpa Pandya, Brian Paniccia, Esther Psarakis, Imre Szenttornyay, Jessica Talley, Will Townsend and Kenneth Watson
360 VERA
For being all-around helpful Bpeacers
Cathy Giffi, Nancy Greatrix Manley and Jamie Mittelman
EXTREME BPEACERS
Members who engaged in so many Bpeace activities, we have to count their achievements on both hands
Extreme Bpeacer 1.0
Angela Scalpello, SVP Organizational Development at UBM LLC
A first-time Extreme Bpeacer, Angela provided HR advice to Bpeace HQ and Fast Runners. At a workshop in New York and a one-on-one in El Salvador, she helped Central American Fast Runners introduce employee engagement practices, creating a happier and more productive work environment.

Drew Crail, Senior Associate at PricewaterhouseCoopers
A first-time Extreme Bpeacer, Drew wore many hats over the last year. He was a Traveling and Virtual Mentor to Fast Runners and a trusted advisor to HQ and field staff. His many hard-working hours dedicated to Bpeace have made us better at what we do.
Extreme Bpeacer 2.0
Nazifa Danishgar, Director, Corporate Store Planning and Development, at Estée Lauder
A second-time Extreme Bpeacer, Nazifa looked after Fast Runners and Balkhi, our Afghan staffer, when they were in the U.S. She also helped shape our 2016 efforts in Afghanistan, led the top-producing team in Pedal for Peace, introduced multiple new members to the organization, and won Bpeace a $5,000 donation from Estée Lauder when she was presented with the company's Volunteer of the Year award.
Extreme Bpeacer 3.0
David Montieth, retired, former Vice President Human Resources at Dress Barn, Inc.
A third-time Extreme Bpeacer, David shared his HR skills with as many Fast Runners as possible—as a Traveling Mentor in Guatemala, as a Virtual Mentor, and while the Fast Runners were visiting New York City.