Bpeace 2015 Gala
By

Lauren Hass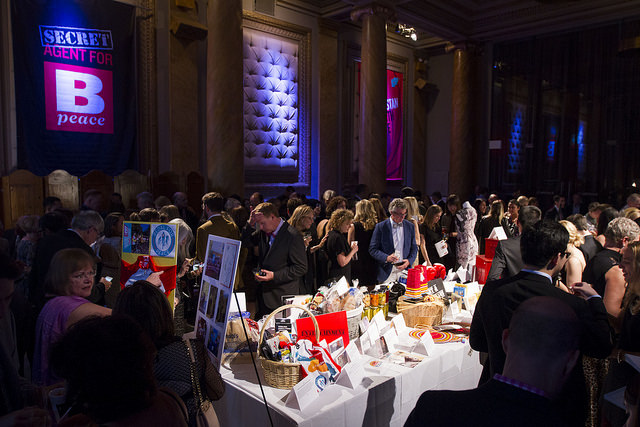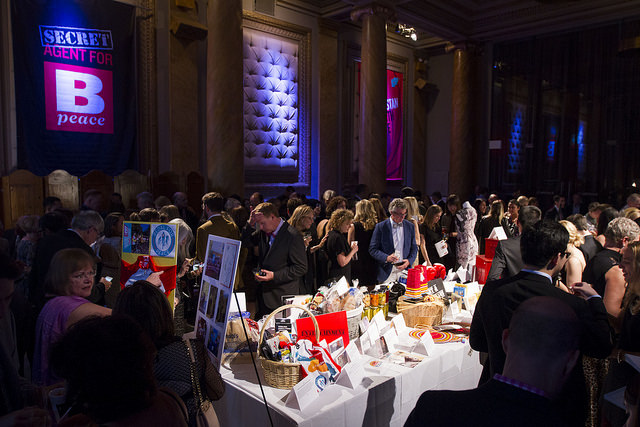 On a May evening at Capitale in downtown Manhattan, more than 225 dedicated Bpeace operatives and friends convened for the Secret Agent for Bpeace Gala. From the first pour of a Bpeace-tini, the evening revealed an agenda of fun and inspiration that opened with a cocktail hour silent auction. Using state-of-the-art mobile bidding software, guests made offers on such items as a stay in Deer Valley, a new Stuart Weitzman shoe wardrobe and tickets to and a backstage tour of Broadway's award-winning show Kinky Boots.
The efforts of the Gala Committee and volunteers shone throughout the evening, from the presentation of more than 70 auction items, to the quirky photo booth complete with Secret Agent props, to the elegant dinner and spectacular entertainment. Other touches included take-home gifts of Fast Runner products: spice packets from Salvadoran Fast Runner Andrea Quintanilla's company Sabor Amigo and organic lotions from Guatemalan Fast Runner Carmen Reyes' company Belleza Total.
Following a showing of Bpeace's Mission Possible Video, Bpeace Board Co-chair and sponsor PricewaterhouseCoopers partner Randy Browning introduced fellow Board members and had the room buzzing over dossiers about some of Bpeace's Secret Agent Fast Runners. One notable mention was the first ever Fast Runner-to-Fast Runner virtual mentoring session between Carlos Rodas of Open Marketing Corp in Guatemala and Nasim Gul Azizi of Bano Food Industry in Afghanistan.
The crowd then welcomed Bpeace CEO Elizabeth Crowell who took to the stage to share her excitement over her new role as Bpeace Top Agent. As champagne bottles lit with sparklers were carried to tables around the room, guests celebrated the year's successes with a delicious 3-course meal.
After-dinner festivities began high in the air with an aerial performance set to Led Zeppelin's Kashmir cover, followed by a live auction featuring stunning international properties including a beach house in El Salvador and a Deal or No Deal-style Mystery Briefcase Bonanza. The venue was abuzz with the live auction action led by Bpeace Auctioneer Alan Kalter—a voice you may recognize from the former The Late Show With David Letterman—and visiting Salvadoran Fast Runner Andrea Quintanilla of Sabor Amigo. Thanks to a generous and enthusiastic crowd, the live auction concluded with a record-breaking sum for our Fast Runners in Central America.
Over the course of the evening, guests were shown how our Fast Runners are more than leaders in job creation-- their businesses shape the lives of their families, employees and customers through community-minded practices. To see for yourself how our Fast Runners are both creating jobs AND making a difference, check out the Bpeace Social Impact video.
To our Fast Runners and volunteers, donors, guests and supporters-- thank you for making the 2015 Bpeace Gala, a Mission Possible.
Silent and Live Auction Donors
Anonymous
Athena Katsaros
Bradford Renaissance Portraits Corp.
Brooklyn Troop 2292
Daniel Radcliffe
Frances Carroll
Frank Marzano
Gramercy Tavern and Lisa Dubin
Javier and Andrea Prado
Jenna Wolfe
Laura Godfrey
Maribeth Fox
Mark Fleming
Michele and Jake Lindsay
Mohamed Elzomor
Randy Browning
Rick Perkal
The Nightly Show with Larry Wilmore
Vanessa Castro
Willie Geist and The Today Show
Gala Committee
Janice Chaka
Laurie Chock
Elizabeth Crowell
Maribeth Fox
Ayanna Gabriel
Jeni Gallup
Lauren Hass
Reena Krishnan
Lauren Leland
Toni Maloney
Monica Quintero
Christina Rodriguez
Breana Tutuska
Liz Wald
Gala Creative Director
Oyster Studio
Entertainment
Heather Franklin, Wow Factor Talent
Photography
Camera One
Catch the Momenthttp://www.catchthemoment.com/Pages/home.aspx
Videos
Laurie Chock
Toni Maloney
Jay O. Sanders
Andrea Trabucco-Campos
Producer
Justin Cohen
Gala volunteers
Diana Binger
Janice Chaka
Mary Ciampa
Lucia Davis
Ayanna Gabriel
Shoshanna Hecht
Dara Kessler
Sonia Meskin
Kristell Milan
Sonia Mukhi
Meave Murphy
Monica Quintero
Christina Rodriguez
Breana Tutuska
Carole Vaporean
Elvis Zeng