Recognition Well Deserved: Celebrating the 2014 VERA winners
By

Toni Maloney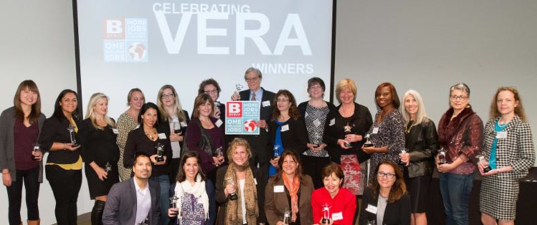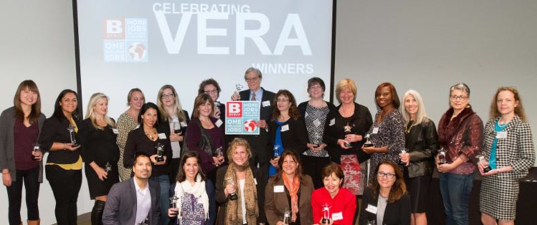 Twenty-two 2014 VERA winners received their awards in person at the 2014 Annual Meeting.
SUCCESS BY THE NUMBERS
As we look back on another successful Bpeace year, we have lots to be proud of!
The number of Fast Runners grew by 33%, to 64--18 in Afghanistan, 28 in El Salvador and a jump from one to 18 in Guatemala.
Women-owned or led businesses account for 65% of our Fast Runners.
Among the Salvadoran Fast Runners who have been in our portfolio for more than a year, jobs grew by 33%. In Afghanistan, jobs grew by 63%.

RECOGNITION WELL DESERVED
Making it all happen are Bpeacers, Host Companies and, of course, our staff. In 2014, the number of Bpeacers grew by 5%, to 351. At last month's annual meeting in New York City, we were pleased to announce that 49 Bpeacers across the U.S., Canada and the U.K. earned VERAs (Volunteer Excellence Recognition Awards).
CONSULTANTS OF THE YEAR
They delivered long-distance consulting with our Fast Runners or advised Bpeace HQ, including Chief Program Officer, Marla Gitterman. Joe Castor, Victoria Cox, Drew Crail, Jerrie Gullick, Sachal Lakhavani, Gray Oliver, Phyllis Rosen and Wayne Tarken.

TRAVELING MENTORS OF THE YEAR
They flew to El Salvador and worked side by side with specific Fast Runners for a week or more. Steven Harty, Joseph Howse, Fernando Lopez, Jim Romaine and Aja Somal.
CONNECTORS OF THE YEAR
We recruited more than 70 Host Companies this year, and these Bpeacers made critical warm intros for us to companies in their network. Lisa Dubin, Janis Grover, Ruth Kreiger, Susan McPherson, Melissa Miller,Fran Pastore, Paulette Satur, Breana Tutuska and Leah Warshawski.
THOUGHT LEADERS OF THE YEAR
They researched and wrote Growth Guides and blogs: Carla Bachechi, Mojdeh Barros, Paula Milano, Rose Pagonis, Donna Stott and Emma van Rooyen.

EVENT PLANNERS OF THE YEAR
They made our annual Gala our biggest fundraising activity--and lots of fun too! Maribeth Fox, Ayanna Gabriel, Cathy Giffi, Kati Kargman, Reena Krishnan, Lisa Linhardt, Liz Philippe and Monica Quintero.

HOSPITALITY VERA
Carmen Barros
and husband Ron opened their home to last May's visiting Central America Fast Runners, who loved the experience.
Retiring board director Laurie ChockEGOT (EMMY, GRAMMY, OSCAR, TONY) VERA
Bpeace board directors aren't eligible for VERAs. This year, longtime director Laurie Chock stepped down, and we took the opportunity to recognize her significant contributions, including the award-winning documentary, "THREAD," about five of our original Afghan Fast Runners; her expeditions to Afghanistan, El Salvador and Guatemala to open up those regions for us; the many videos she produced to help raise awareness and money; and 10 years of BoD service guiding our progress.

EXTREME BPEACERS
Extreme Bpeacers are members who are engaged in so many activities at Bpeace, Marla has to count their achievements on both hands.
VERA winners Nazifa Danishgar and Melissa MillerNAZIFA DANISHGAR
Winning her first Extreme Bpeacer VERA was Nazifa Danishgar, a Connector, an Enthusiast, an Ambassador and more. Together with her boss, Melissa Miller, who also won a VERA, they have brought Estee Lauder into the Bpeace fold. This year, Nazifa exposed more Estee Lauder people to Bpeace's work when she assisted Guatemalans Rodrigo and Jose Rodrigo and their millwork businesses. As a direct result of her connections, they are now collaborating on a pilot project for Estee Lauder. Nazifa has been in perpetual motion in 2014, raising awareness of Bpeace's work among her Estee Lauder colleagues by bringing them to the Bpeace Gala. And in September, Team Danishgar collectively pedaled several hundred miles in Pedal for Peace.
DAVID MONTIETH
David Montieth won his second Extreme Bpeacer VERA. When he is not competitively high-jumping at track and field meets around the world, David packs his toothbrush for Bpeace. As an HR expert, he is in high demand by our Fast Runners. This year, he worked with three of them in El Salvador (we just published a blog about his recent trip). Through compelling workshops, David has also introduced 28 of our Central American Fast Runners to evolved thinking on key performance indicators (KPIs).
GITA PATEL
Gita Patel won an Extreme Bpeacer 3.0. While remaining a close advisor to Gaby, our original Guatemalan Fast Runner, Gita spent four weeks in El Salvador and Guatemala with Ana Rosa Selva and Bpeacer Vicky Cox interviewing semifinalists for our current program. And her heart is also in Afghanistan, where she has been long-distance-mentoring Gul on his travel and tourism business in Bamiyan. Gita's versatility and wide knowledge across many industries are a real bonus to us.
Extreme Bpeacer 4.0 Donna Fleetwood and Bpeace Chief Program Officer Marla Gitterman.DONNA FLEETWOOD
Donna Fleetwood is our most extreme VERA winner. An enthusiastic real-estate agent from Harrisburg, PA, Donna continues to co-mentor Latifa in Afghanistan. She also co-authored a Sales Growth Guide for our Salvadorans; rode again in this year's Pedal for Peace; worked intensely with our May group of visiting Central Americans on their Forward Plans; and is one of the most connected people in Bpeace, tapping her Rolodex of friends to find us the experts and Host Companies we need.
Donna is not just extreme, she is fearlessly extreme. This is the fourth time she has won this award!
We don't know of any organization that can so successfully harness the skills of business volunteers. And let me take this opportunity to announce that for the second year in a row, GreatNonProfits has named Bpeace Top Rated!
Congratulations to all!