Presenting the 2013 VERA winners
By

Toni Maloney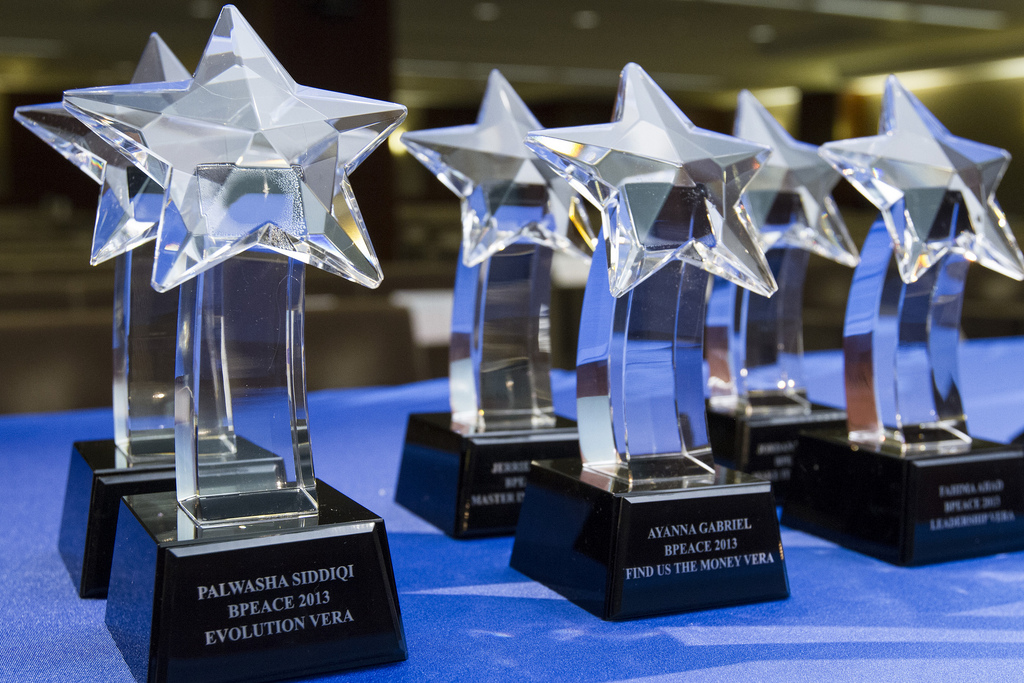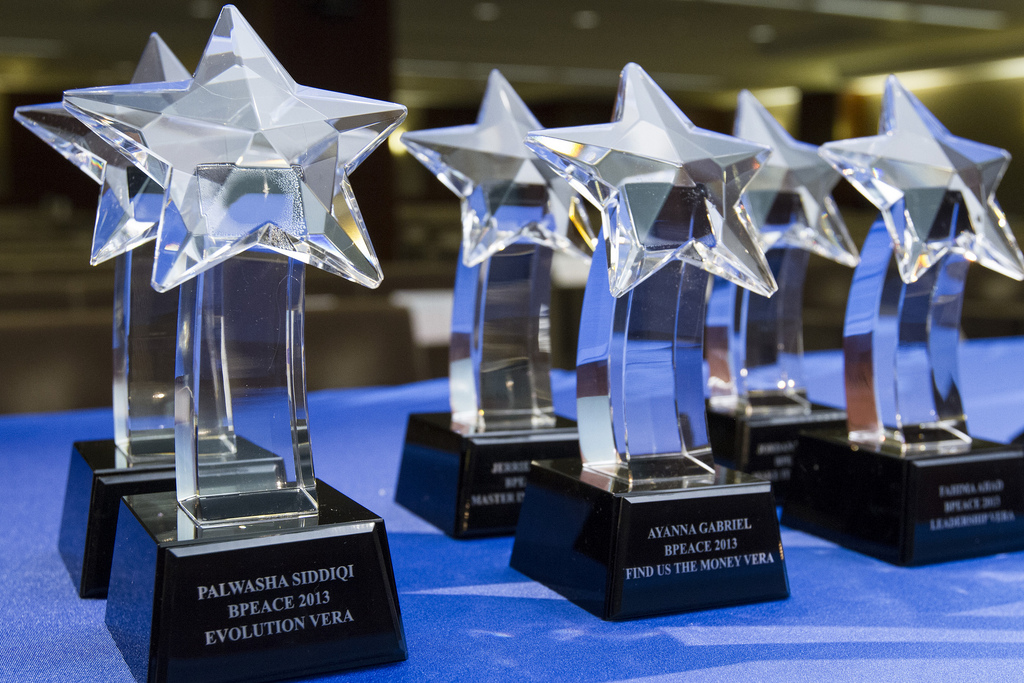 More than a merit badge, yet not as grand as a Nobel Peace Prize, Bpeace's Volunteer Excellence Recognition Awards (VERAs) are our tribute to volunteers who significantly accelerated the growth of our Fast Runners or helped strengthen Bpeace.
We named 48 VERA winners -- 30 women and 18 men; 15 who traveled and 33 who volunteered virtually; 21 young professionals and 27 experienced professionals; six who currently live outside of the U.S.; 18 who helped strengthen Bpeace with HQ or fundraising projects and 30 who focused on geography and Fast Runners.
THE HIGHEST HONORS--EXTREME BPEACERS
[caption id="attachment_4277" align="alignright" width="250"]
Donna Fleetwood (right) with Latifa co-mentor Paula Wilbert.[/caption]
Donna Fleetwood, Harrisburg, PA, wins Extreme Bpeacer 3.0. An enthusiastic real-estate broker, Donna co-mentors Afghan kitchen remodeler Latifa; traveled to El Salvador to help shape our Fast Runners into a cohesive networking group; coached Fast Runner Acoopimold on their management issues; is co-authoring a Bpeace Sales Growth Guide for our Salvadorans and Guatemalans; and rode in this year's Pedal for Peace.
[caption id="attachment_4211" align="alignleft" width="200"]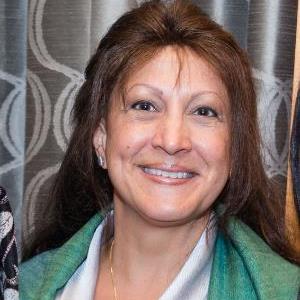 Gita Patel[/caption]
Gita Patel, New Brunswick, NJ, wins Extreme Bpeacer 2.0. Gita is a management consultant with expertise in hospitality and tourism. Gita traveled to Guatemala during our pre-launch due-diligence process where she met and introduced us to Gaby, our first Fast Runner in Guatemala. Gita mentored Gaby through her application to the Cartier Women's Initiative Awards (Gaby won and received $20,000 in prize money to expand her business.). Meanwhile, Gita is also mentoring our tourism Fast Runner Gull in Afghanistan, writing marketing materials and providing strategic guidance. She introduced us to fellow VERA winner Vicky Cox.
[caption id="attachment_4206" align="alignright" width="190"]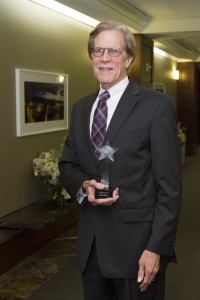 David Monteith[/caption]
David Montieth, Ridgefield, CT, wins his second VERA and his first Extreme Bpeacer nod. David is an HR expert whose range of Bpeace achievements crosses many industries and two countries, and who has no fear of flying. David helped improve the capacity of our Afghan DOSTI soccer ball makers -- Taj and Aziza. He is the king of helping our Fast Runners extract the most from their U.S. Host Company experiences, including traveling with Afghan solar panel manufacturer Nasrat; Afghan technology Fast Runner Jamshid; and our Salvadoran call center Fast Runner Claudia. This year he also was a Traveling HR Mentor to Salvadoran Fast Runners.
THE PwC SURGE
The track record of achievement by PwC volunteers is fast becoming legendary with 11 PwCers winning VERAs this year.
[caption id="attachment_4214" align="alignleft" width="300"]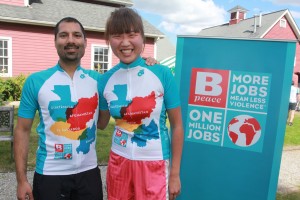 PwCers and Bpeacers Sachal Lakhavani and Rachael Rho.[/caption]
Rachael Rho led the first PwC corporate team in Bpeace's 4th Annual Pedal for Peace.
Joe Castor is part of the team creating an Excel-based payroll database for the small and midsize Afghan businesses in the Bpeace Fast Runner program. And he rode in Pedal for Peace.
Drew Crail led two teams of PwCers that included Aaron Hans, Barry McCardel, Jack Kapaun, Joe Castor, Jon Glick, Josh McLane (who also rode in Pedal for Peace), Lauren Leland and Kieran Shanahan. One team developed an international expansion strategy for Fast Runner Roberto Palomo's Web design firm in San Salvador. The second team analyzed Bpeace's volunteer model and suggested strategic modifications that will help us grow.
Sachal Lakhavani, advised technology Fast Runner Jamshid in Afghanistan, introduced us to Drew Crail and his team and rode in Pedal for Peace.

TRAVELING MENTORS
One-third of this year's VERA winners are Traveling Mentors, having spent between one and two weeks working side by side with our Fast Runners at their places of business.
El Salvador
[caption id="attachment_4222" align="alignright" width="213"]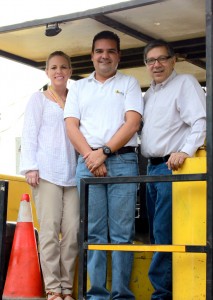 Kimberly Smithson-Abel (left), Shankar Lakhavani (right).[/caption]
Vicky Cox and Shankar Lakhavani are lean manufacturing experts. Kimberly Smithson-Abel is a strategist. Vicky worked with Fast Runners Inverprint -- a commercial printer; Alimentos Lupita -- a food processor; and Grupo GW -- a shoe manufacturer. Shankar and Kimberly worked with Sevialca, a road construction firm.
Eduardo Flores, Guatemala, works for Wal-Mart, and along with Bpeace Board Co-Chair Kate Buggeln advised childrenswear manufacturer Marenco on expansion strategies.
Liz Chanmugham is a serial entrepreneur and her firm -- Bag the Habit -- aims to change the way people shop. Ken Hewes is a strategist for retail and fashion brands. Liz traveled from Boston and Ken from Ohio to work with Fast Runner Santa Croce, a Salvadoran manufacturer of fashion leather handbags.
Susan Heaney stood in for Board Director Susan McPherson when a foot operation made a scheduled address to the San Salvador Chamber of Commerce impossible. Susan Heaney made the speech and also met with our Fast Runners to share U.S. corporate social responsibility best practices.
Russell Morley is an ice cream and flavors expert from Canada, and advised Helados Cremosa on new product formulations.
Phyllis Rosen is an HR expert for big brands like Bankers Trust and Ogilvy. She traveled to El Salvador to work with Gesel -- a fast-growing call center with 180 employees.
[caption id="attachment_4226" align="alignleft" width="300"]
Mary Stycos (right) at Carymar.[/caption]
Mary Stycos knows food service, and worked with restaurant Carymar. Pieraldo Pecchio builds food brand distribution and worked with frozen-food producer Krisspy's.
Fern Thomas has a proven track record as a Chief Financial Officer. Ironically, she had just left her job at the luxury auction house Christie's when she went to El Salvador to work with a trash recycler -- Fast Runner Serpaca.
Tim Worthington is a highly respected expert in metal molds to produce plastic injection products. He worked with Acoopimold on technical issues.
Afghanistan
Nazifa Danishgar took vacation from her job at Estee Lauder and flew to Kabul, Afghanistan. In advance, she worked with Marla and the Academy of Motion Picture Arts and Sciences to plan and orchestrate a Bpeace Film Summit for our four Fast Runners who operate in the filmmaking and TV industries.
BOOSTING FILM ECONOMIES IN TWO COUNTRIES
[caption id="attachment_4229" align="alignright" width="171"]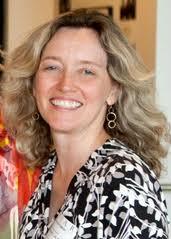 Ellen Harrington[/caption]
Ellen Harrington of the Academy of Motion Picture Arts and Sciences made critical contributions to the aforementioned Bpeace Film Summit and was a significant advisor during the development and marketing of RwandaFilm.org.
YODA VERAs
This is a new category, acknowledging the wise business coaching these experienced professionals provide to our Salvadoran Fast Runners on a sustained basis. Fernando Lopez, Canada; Luis Peña, Texas; Javier Prado, El Salvador all won Yoda VERAs.
WE COUNT ON THEM
Bpeace is the envy of many organizations that consistently ask how we recruit so many high-caliber business people.
We recognize the following Bpeacers for generously sharing their time and networks with us time and time again.
Mojdeh Barros, New Hampshire, has advised on many Afghan Fast Runner problems (aka opportunities) and refined our pitch to corporate sponsors.
[caption id="attachment_4232" align="alignleft" width="277"]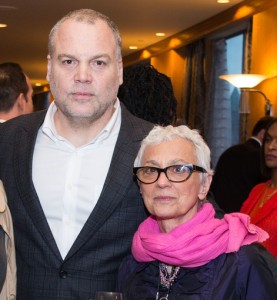 Sandy DiPasqua (right) at the Bpeace Gala with her friend, actor Vincent D'Onofrio.[/caption]
Sandy DiPasqua, New York, has lent her design talents to many Bpeace projects, and this year created core materials for the successful Bpeace 10th Anniversary Gala.
Yuan Geng, Illinois, who left consulting for grad school at the Kellogg School of Management at Northwestern, worked with an Afghan Fast Runner to create an Excel-based database for a large client project.
Janis Grover, New Jersey, is an expert in specialty foods. She is the lynchpin to so many food-processing experts we have tapped. This year she especially contributed to the progress of Nasim, who processes jams, vegetables and fruits in Herat, Afghanistan and Luis Enrique, who processes refrigerated items such as salad and sauces in El Salvador.
Jerrie Gullick, Brooklyn, has advised both Afghan and Rwandan Fast Runners on how to improve their financial tracking by using QuickBooks, and she also serves pro-bono as Bpeace's Virtual CFO.
[caption id="attachment_4235" align="alignright" width="190"]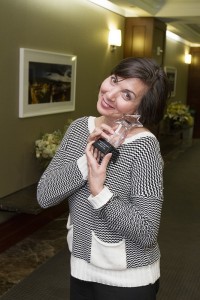 Dana Kuznetzkoff[/caption]
Dana Kuznetzkoff, best known as a New York film and TV producer, made the final exploratory trip to Guatemala before we officially launched in that country.
Kristi Rogers Knapp, London, contributed to developing tools for our Afghan Fast Runners to track their finances and to creating a Bpeace Growth Guide on How to Finance Your Growing Business.
Karen Vander Linde, Washington, DC, traveled to Guatemala during our pre-launch due-diligence process and helped shape our messaging for entry into Guatemala.
Paula Wilbert, Massachusetts, is an occupational therapist and inventor. She co-mentors Latifa, our Afghan Kitchen Kween who manufacturers kitchen shelving.
[caption id="attachment_4238" align="alignleft" width="250"]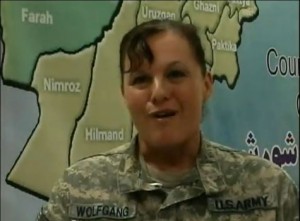 Teresa Wolfgang[/caption]
Teresa Wolfgang, now based in Kuwait with the U.S. Army Reserve, has advised Afghan technology Fast Runner Jamshid and is now exploring whether Tajikistan might be a natural extension of our work in Afghanistan.
FIND US THE MONEY
Palwasha Siddiqi raised $20,000 in just a few minutes during the Bpeace Gala by offering to cook authentic Afghan dinners.
Ayanna Gabriel used her leverage at United Nations Federal Credit Union (UNFCU) to bring in sponsorship for the 10th Anniversary Gala and a grant for our launch in Guatemala.
LEADERSHIP and TEAM PLAYERS
Fahima Ahad took the lead as the Chair of the Young Professionals Leadership Council and stewarded a group of passionate young Bpeacers to re-energize the group to a successful series of events.
[caption id="attachment_4250" align="alignright" width="300"]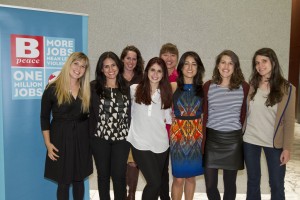 Enrica Maffucci, Fahima Ahad, Jamie Mittelman, Jordan Browning, Rachael Rho, Palwasha Siddiqi, Meave Murphy and Delilah Rothenberg of the Bpeace Young Professionals Leadership Committee.[/caption]
Jordan Browning found creative ways to shape Young Professional events, on a limited budget, for maximum impact.
Enrica Maffucci was Pedal for Peace's Swiss Army Knife, tackling myriad details from marking the route to expediting bike rentals.
Jamie Mittelman not only had her eye on the fundraising goal of Pedal for Peace, but she also developed a line of sight to motivate the team to get there.
And there is plenty more talent in the pipeline! Congrats to all.