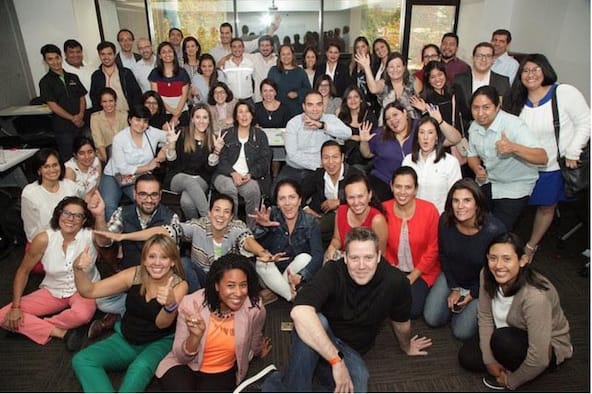 By

Justin Harlow
Justin Harlow is a member of Bpeace's Advisory Board and Executive Council. He's the Founder & CEO of Lateral Labs, a global innovation agency that helps people solve their most stubborn challenges in two hours (or less). He spent three days in Guatemala where he ran an innovation popup lab that involved a keynote presentation, a Hackathon attended by 70 people and 11 one-on-one innovation workshops with Fast Runners (oh and he had two working dinners as well!).
I'm just back from my second trip to Guatemala City and my third for Bpeace in total. It was great to be back and it feels like the city is headed in the right direction. There were fewer police on the streets and people seemed to be freely moving around. Based on the outlook of the Bpeace Fast Runners, people are definitely more hopeful about the direction the country is heading in, although the political situation still remains uncertain.
We started the week with a series of one-on-one innovation workshops with the Fast Runners. The variety of businesses I work with through Bpeace never ceases to amaze me. This year the Fast Runners included a condiments sachet manufacturer, a personal loans company, a chain of convenience stores, a Mexican restaurant, and a picture frame distributor.
The challenges that these businesses face are as varied as the businesses themselves. We helped Javier and Roberto Santiago of Miniempaques discover ideas to disrupt the assumption of 7g per sachet in the sugar business (sorry, this idea has to stay a secret); we helped Carleen De Fuertes, Cristina Fuertes and Waleska De Lutin get excited about picture frames through new MargaritasyMarcos social events (think boozy Tupperware parties); and we helped Nery Paniagua Castañeda come up with ways to re-energize growth in its business, Adelantos, by applying tactics that people use during mid-life crises.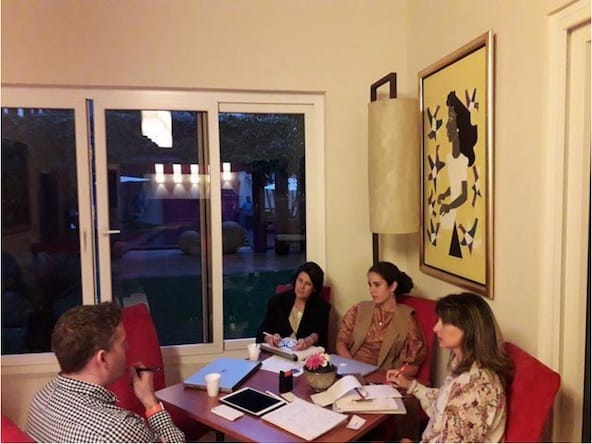 The Margaritas y Marcos concept is born
Innovation at Its Best
The week's main event was held at AGExport. A big thank you to Stephany de Gonzalez, Bpeace Country Manager for Guatemala, for making the day (make that the whole week) go so seamlessly. I'll even forgive her for taking me to Chili's for lunch the previous Tuesday (to be fair, it was right next door to our meetings, we only had 25 minutes, and they had a special where they gave you lunch for free if it wasn't ready in 10 minutes). I started the event with my innovation keynote speech "Stop Doing the Same **** Over and Over Again | A Practical Guide to Innovation." The asterisks helped replace some of the more colorful language that we use in New York. The venue for the keynote was beautiful and the crowd was really engaged. It was great to see so many familiar faces in the audience. And hats off to the translator – hopefully she'll never have to work with a half English farmer, half Brooklyn accent again.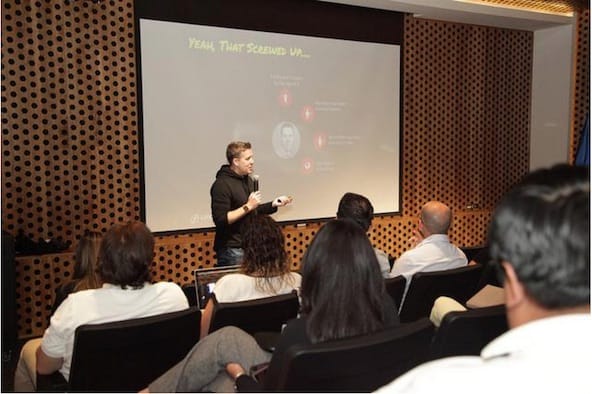 Here I'm telling everyone that I'm screwed up and that's how it helps me to think differently.
Here are some Fast Runners doing their best impression of being interested.
Hackathon!
After the keynote, we moved on to the Hackathon. Prior to the event, Stephany had suggested that we choose Guatemala City's terrible traffic as the problem. I would estimate that about 75% of my meetings have started late in Guatemala due to the traffic problems, so I was 100% behind her suggestion! We used the "Steal It" methodology to discover analogous ideas from other domains that could be adapted to solve the traffic problem. We started with the direct problem statement of "In what ways can we improve Guatemala City's terrible traffic?" and broadened the problem by rephrasing the challenge in two ways: "How can we alleviate congestion?" and "How can we prevent chaos?" For congestion alleviation, the teams worked with the analogies of nasal congestion, clogged toilets, blocked arteries, clogged pores, and constipation. For chaos prevention, we looked at kindergarten teachers, riot police, and chefs.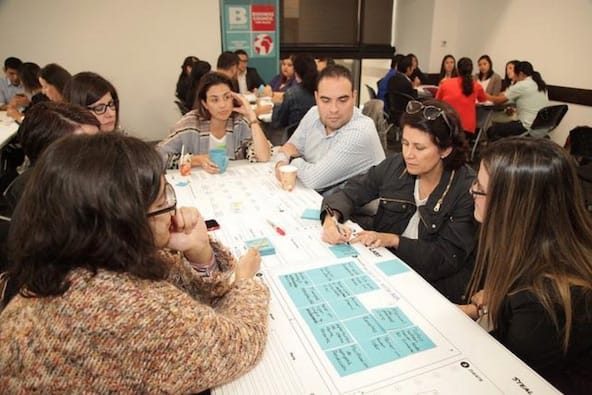 Teams compete during the Hackathon to find the best solution to Guatemala's terrible traffic.
Each group of hackers was in it to win it. After completing the four ideation stages, each group selected a spokesperson to stand up and present their best idea. Unfortunately for one unsuspecting victim, "constipation" got a little lost in translation. He thought the word meant nasal congestion. I thought he was being very open when he stood up and said that he suffered from constipation all the time and that he cured it by putting his head in between his legs. But I digress.
Stephany had the honor of announcing the winning team, headed by Fast Runner Nery Paniagua, which came up with the idea to place tents over crashes to prevent rubber-necking. How did they come up with that? They started with the analogy of police controlling riots, adopted the technique of using shields to push people to the side, and adapted it to the initial traffic problem. I thought it was a brilliant idea. Quick to execute, low cost – probably no cost, as I'm sure these tents would be sponsored by pick-up services or even the local hospital. If anyone steals this idea, they'd better make a sizeable donation to Bpeace.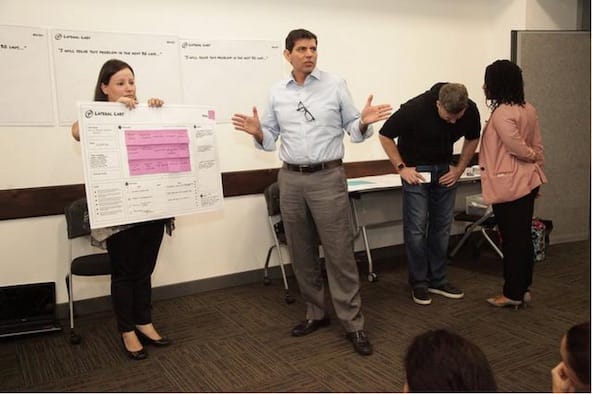 The Winning Idea!!
Workshops are a Success
We finished off the week with two final innovation workshops, both of which went really well. Innovation can be hit and miss and that's when everyone speaks the same language! I would say 10 out of 11 meetings resulted in some really awesome solutions to the FastRunner challenges; I'll take that percentage any day of the week.
All in all, it was another fantastic trip. My only regret was not having enough time to see more of Guatemala. But I look forward to going back -- yes, even if it involves Chili's again.
---
Justin Harlow is one of 300+ Bpeace Skillanthropists who have advised entrepreneurs in challenged economies.
To learn more about how you can get involved visit www.Bpeace.org