Deepening Ties in Guatemala
By

Will Townsend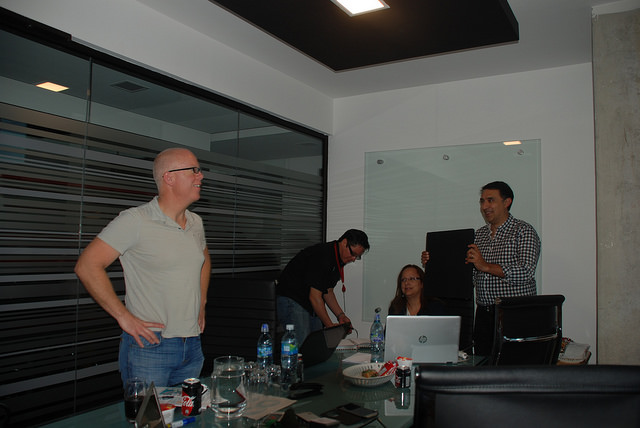 I smile and explain how my father and his sister and brothers were all born in Brazil and moved to the United States to attend school but eventually stayed and got married. My aunt happened to meet a multigenerational farmer from Guatemala City and moved there to raise a family.
For years, as I raised my own family in Texas, I never visited my aunt, uncle and cousins in Guatemala. They would often come to the States for holidays, but I didn't reciprocate. It wasn't until I experienced a significant life change that it became abundantly clear I should visit.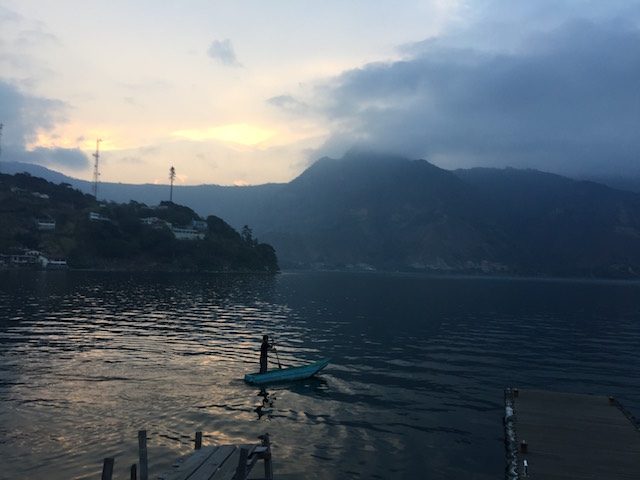 View of Lake Atitlan, Guatemala, from Will's hotel window.
Experiencing the country—through family and business
I was blown away by Guatemala's natural beauty, including its many volcanoes and Lake Atitlan, its friendly people, and reconnecting with my "primos" and their children. Plus, I was given the opportunity to volunteer there as a Traveling Mentor for Bpeace.
My experiences with two Bpeace "Fast Runner" businesses parallel reconnecting with the Guatemalan branch of my family. Initially, my motivation was born out of a desire to give back—to reciprocate based on my good fortune in the technology sales and marketing sector. But I eventually received far more than I could possibly give. I've made connections and friends for life, even a place to stay on my next visit!
Helping Fast Runners streamline and grow
Fast Runners Gaby Maldonado and her husband Milton Castillo of Jugando Aprendo are publishers of teaching materials for primary-school-aged students. We focused our time together on inventory management, sales pipelining and social media marketing. Gaby quickly put our ideas to work while Milton implemented the inventory management system. As a result, they are now able to streamline operations and more accurately estimate sales in anticipation of publishing the right amount of books and manipulatives.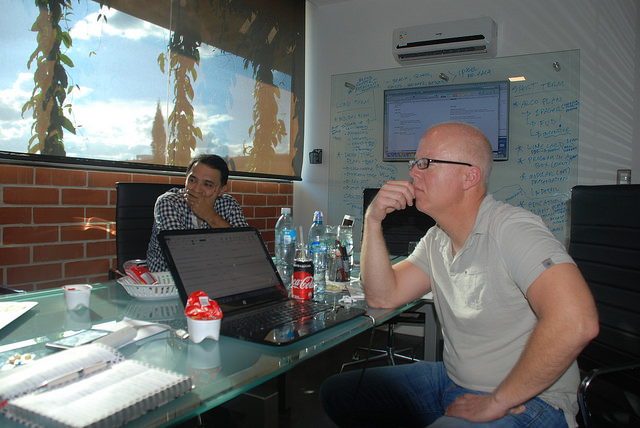 Abel Letona, founder of The Mrktng Corp (left), Will Townsend (right).
Fast Runners Maria Isabel and Abel Letona of The Mrktng Corp were struggling with transforming the mix of their agency services into higher-profit offerings. After one day of in-depth analysis, we were able to formulate a plan to promote the firm's value-added services among a growing number of competitors' commoditized offerings. Past, present and potential clients, as well as the local press, were invited to an event where they could experience innovative technology to deploy in stores, bars/restaurants and outdoor venues for promoting products and brands.
Changing lives
Bpeace not only changes the lives of entrepreneurs working in regions of conflict, but also the lives of its volunteers. I feel blessed to have found Bpeace through my consulting work with GLG. Because of Bpeace, I am now connected to a growing "family"!