Virtual Mentoring: For Janice Chaka, it's as real as being there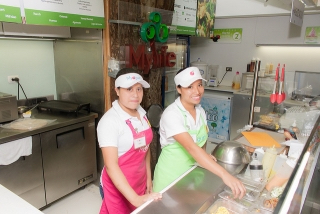 Matched up with a Fast Runner in need of HR expertise—and more
It panned out quite naturally that Janice, who speaks Spanish, became a Virtual Mentor to Guatemalan Fast Runner Karina Koper. While many Fast Runners request mentorship in marketing and business operations, Karina needed help hiring, retaining and training her employees at the growing businesses she founded and manages, Myogurt and Mylife, which are geared toward maintaining a healthy lifestyle with self-serve frozen yogurt and an ever-expanding list of items.
"We worked on how she was hiring and the skills she actually needed, compared to what she was advertising," Janice says of her initial work with Karina. "Did she want to hire and train, or hire those who had the skills? The indigenous [population] is easier to reach but maybe not what she needed at the time." The two then began developing an employee manual and a strategy for training employees—many of whom exhibited a significant lack of motivation in the workplace—in order to empower staff, and enable them to take on larger roles within the company.
Karina's positive experience working with Janice is widely evident—from her company's refreshed work culture, to her staff's growing skill sets.
One of Karina's goals is to help indigenous people through job creation, but, as Janice learned, she is passionate about her company having core values that her staff embraces. "She wants values like trust and honesty to be pillars throughout her company," Janice says.
So once a month, Janice volunteers her time via three-way Skype calls between herself, Karina and a Bpeace staffer to work on integrating company values into the fabric of Karina's businesses. The three discuss and assess a wide range of topics—from the HR processes put in place the previous month, to the spontaneous civilian protests that delay progress.
For Karina, Janice is more than an HR consultant; she's a window into another world. "Having Virtual Mentors has become an eye opener for us. We learn different ways of doing things in different parts of the world, especially for our Mylife concept, since the healthy food market is new in Guatemala. Our mentors provide us with ideas and answers we could not get here."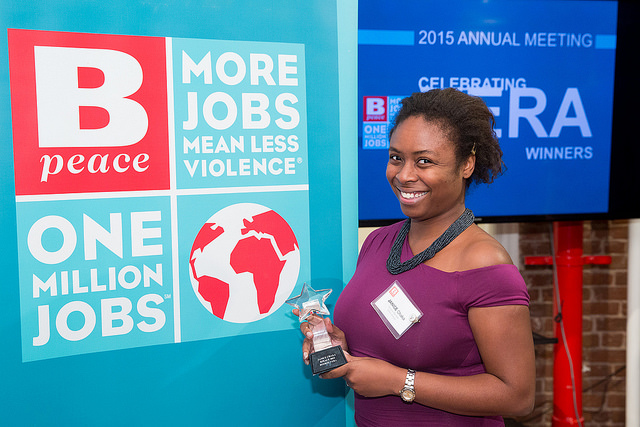 Photo: Janice accepting her Bpeace VERA – Volunteer Excellence Recognition Award.
A plus of virtual mentoring: Timely communications
While Bpeace Traveling Mentors spend face-time with their Fast Runners and are able to touch, smell, see and even sometimes taste the products their mentees invest so much time in, Virtual Mentors are restricted to Wi-Fi hotspots and an LCD screen. But virtual mentoring not only keeps costs down, it allows for a continually developing relationship and a more constant mode of communication—crucial when "there is always something happening and you're always putting out fires," as Janice puts it.
Working in conflict zones certainly keeps people on their toes. So when Karina and her employees can't carry out their plans due to what's brewing outside the doors of Myogurt and Mylife, Janice is just a Skype call away to help renew and redevelop the vision in a relevant way. "In my mentoring I commit to certain activities to be discussed in our next call; in that way, we can measure our success," says Janice.
Karina is on a lot of calls these days, and not just with Janice. Her Bpeace consulting team is expanding. Karina now also works with Diego, another Virtual Mentor, on her branding, and Steve, a Traveling Mentor and chef, who analyzed the company's kitchen and innovated the Mylife recipes on a visit to Guatemala. Karina's synergetic experience with her mentors has made a world of difference in her business, and in the lives of those involved in it.
Asking questions is critical—for both parties
"As a mentor, you learn things as well," Janice says. "It's not just a one-way street." While most of the challenges of virtual mentoring—keeping the Fast Runner on track, for example—are similar to those of in-person mentoring, she sees the hardest part of managing this type of relationship as understanding what the Fast Runner faces every day in their country's somewhat unpredictable business climate. Janice advises Virtual Mentors to always ask questions. "Don't make assumptions," she says, "around what you might think about the country. What might be true of most of the country may not be true of the pocket you're working with."
Karina is sensitive to that same point and sees a downside of the mentor not being there as those times "we want our mentors to live a certain experience which is very difficult to explain."
Visiting Guatemala isn't in the cards for Janice in the near future, although she says that she and Karina have yet to have the "flavor" discussion. "Next call, we talk about the yogurt flavors," she says. "That determines whether I buy a ticket or not!"