Rwandan businesswomen soak up Pennsylvania
By

Rena Fried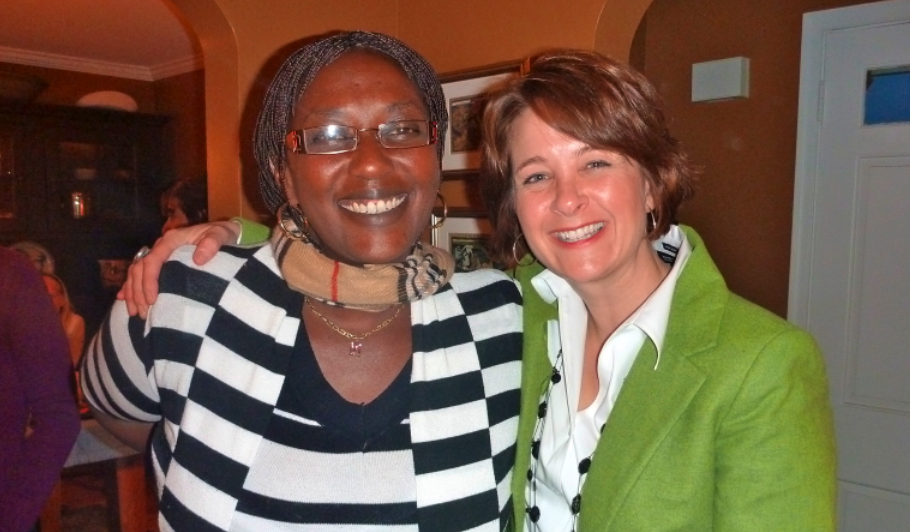 Four Bpeace Rwandan Fast Runner entrepreneurs arrived in Pennsylvania in early April 2011 to meet with host companies and acquire some new inspiring business practices.
Soline, who owns a plant nursery, garden center, and landscaping business, reveled in her muddy hands during the week. The rain didn't dampen lessons in new propagation methods and landscape design software. David Schultz demonstrated how he manages finances for Schultz's Landscaping using QuickBooks. At Highland Gardens, Soline's understanding of a garden center was expanded as she learned about all of the fun and useful products they sell--from topsoil to peat pots to wind chimes. In fact, when she returns to Rwanda, she plans to commission an artisan to create bamboo wind chimes to sell at her own shop. (Soline was quite baffled to learn that the shop sells bird seed...and wonders why Americans feed the birds but shoo away the squirrels.)
Symphrose, the owner of Le Petit Prince Hotel, and Consolata, her marketing manager, spent the week relearning the meaning of customer service and care. At the Hampton Inn Harrisburg East, they were surprised that every single employee appeared happy and enthusiastic at their job. Symphrose noted that Drazen Mlivoncic, the general manager, regularly greeted staff members at every position by name which further reinforced staff camaraderie and their ability to serve their clients with a smile. Having a first hand experience with customer service has given Symphrose and Consolata a better understanding of how to provide hospitality for their international clientele.
Languida, the owner of Rwanda's first funeral home, spent the week in Bloomsburg, PA with her Bpeace traveling mentor Craig Baker. Two years ago, Craig spent a month in Rwanda with Languida and was thrilled for the week-long reunion. Timing was on their side--three bodies arrived at the Brady Funeral Home, where Craig works, which meant a busy week for all of them. Languida watched an embalming and learned about U.S. regulations for treating bodies. She also visited a morgue, a crematory, and a casket maker.
The Pennsylvania week culminated in a beautiful reception hosted by the Harrisburg Hilton and coordinated by energetic Bpeace member Donna Fleetwood. With about 50 people in attendance, it was clear that the Rwandan women created meaningful connections with everyone they had met.
Thank you to all of the fantastic host companies in Pennsylvania:
The Best Western Premier, The Central Hotel and Conference Center
The Hampton Inn Harrisburg East
The Hilton Harrisburg
Brady Funeral
Scott's Floral and Gift and Greenhouses
Geisinger Medical Center
Northampton Community College
Pomfret Manor Cemetery
Schultz's Landscaping
Highland Gardens
Diller Nursery