Top Tomato
By

Toni Maloney
Roma tomatoes are in high demand in Rwanda and The Serena Hotel is a major consumer of them. Shema Farms, operated by Sara--one of Bpeace's Race to Innovation finalists--is one of the hotel's biggest suppliers.
The demand for high quality, good tasting tomatoes in growing at a rapid pace and Shema Farms cannot keep up. Donna and I met with Sara and her husband David and they took us to the farm where we actually saw the tomatoes and the greenhouses along with the many other products they produce such as milk, spinach and watermelon.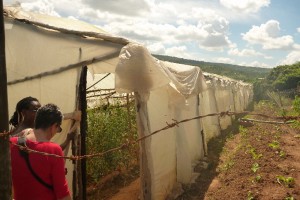 They also shared with us the location of the additional greenhouses they hope to build with technical assistance from Bpeace. Today we had the best tomatoes I have tasted since I have been in Rwanda…we had a farewell lunch with Richard at the Serena Hotel-yum!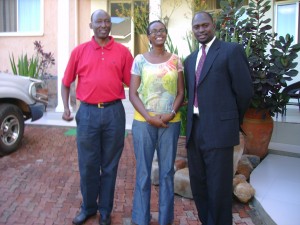 At right is a photo Sara, her husband Davis and another Bpeace Race to Innovation Finalist, Emmanuel. How funny were Emmanuel and Sara they bantered back and forth about who should win. Sara told Emmanuel she should win because it is time for the women to move ahead. As only Emmanuel could say, I am not responsible for the past, I just got here.
You can vote for them both, as well as the third Rwanda finalist, Herve, at www.bpeace.org/vote and herlp Bpeace raise the seed capital to help them all expand.