A rumble, no goats and Fran's camera is at the prison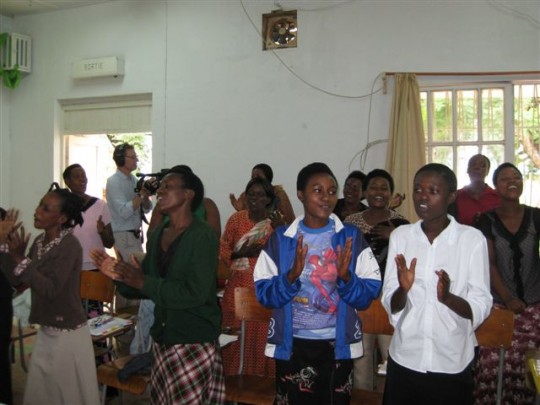 The entire University comes to a stand still

We use an auxiliary classroom at the National University of Rwanda. Yesterday faculty and administrators were forced to leave their classrooms and office and retreat to a lounge area for 20 minutes. The cause was some lively cultural bonding among the Sweet Dreams trainees and Bpeace.
The women we are training walk to class every morning--one woman actually walks two hours each way. And yet most of them are in their seats up to an hour before class starts. A few days ago we asked the early arrivals if they knew a song and they sang us two of the most beautiful traditional songs you ever heard and it really touched our hearts.
Thursday morning we asked them if they wanted to sing again before class and it turned into a joyous loud singing dance party. So loud that we found out later that University delayed classes because of it. Sadly we had to promise the professors we would not do it again.
From Donna: No goat with the ice cream
Sabra finished up her second day of business finance training for the women who we are preparing to work at the Inozzi Niza (Sweet Dreams) Ice Cream store. They all had their Bpeace calculators in hand.
Some of the the women felt that the store should also serve lunch and possibly breakfast. Sabra explained that since the store will be very unique (it's the first ice cream store in Rwanda), they should stick with what they do well and besides meat does not go with ice cream. Her mantra when they persisted: " No Goat with the Ice Cream" because you wouldn't want that smell together with ice cream. Coffee with ice cream, yes, but NO GOAT!
This afternoon we visited the real ice cream store in progress to happily see that the kitchen equipment had arrived. The Rwandans had never seen seen an ice cream cone and were passing it around. Sabra continued her training from behind the actual order counter with a pretend cash drawer, and order taking. Tomorrow it's Fran at the bat, with personal finance and then we will have a graduation ceremony.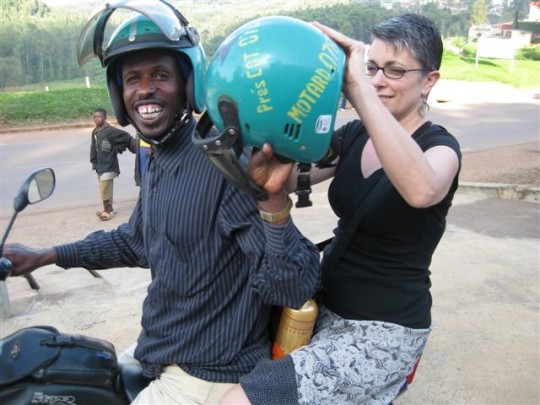 From Sabra: "Fran's camera's at the prison"
After the today's training, Donna was scheduled to meet Herve (one of the Bpeace Race to Innovation finalists) at our hotel. We were waiting for our taxi to meet him and realized that Fran was not moving to leave with us. She was busy chatting away. Donna and I said "Let"s go Fran" she calmly and matter of factly said, "I can't leave now, I have to wait for my camera to come back from the prison." Donna and I are looking at each other because we assumed we didn't hear her correctly. Again she says calmly "my camera is at the prison." One of the interns (member of the Business Club) took her camera to the prison so that he could take pictures of the furniture that the prisoners were making for the ice cream shop. The prisoners are trained in a skill so that when they are released they can become productive citizens. BTW the furniture was great.
Donna and I got in the taxi and said "no one is going to believe this story." Wait it gets better; So we left Fran at the ice cream shop so that Donna would not be late for her meeting with Herve. How did Fran get back to the hotel? She hopped on the back of the motor bike taxi that everyone rides in Rwanda, and had the nerve to have the motor bike taxi make a stop by one of the shops to see if one of the vendors had completed her order. Her comment? "It only cost one dollar, we could have been taking the motor bikes everyday if we didn't have stuff to take to our training". Donna and I just looked at her and went into hysterics. Our Fran, ya gotta love her.