Creating jobs and reducing violence in El Salvador
By

Toni Maloney
"Salvadorans need permanent jobs and I want to create them," says business owner Claudia Barriere to an audience at Sutherland law firm in New York City. Claudia believes with secure employment people can begin to develop their lives and reduce gang violence in El Salvador.
Speaking from El Salvador via BlueJeans video conferencing, Claudia was one of three panelists at this year's first event hosted by Bpeace's Young Professionals. Joining her on the panel were Marla Gitterman, Bpeace's Chief Program Officer; Marvin Fuentes, Bloomberg's Business Development Manager; and Mary Stycos, a restaurant management expert. Marvin is a native Salvadoran and offered his business insight into potential solutions to stimulate the country's economic growth. Mary, who recently traveled to El Salvador as a Bpeace traveling mentor, discussed the various challenges facing small and medium-sized businesses in the country.
The cost of violence to lives and business
As the managing director of La Canasta -- a family run food processing business in Santa Tecla – Claudia works despite facing death threats and extortion. In fact, one of her employees was recently shot and killed while delivering products to a customer. Claudia has become used to these dangers. She, along with other business owners, are asked to pay "rent" to gangs in order to continue to operate their businesses.
[caption id="attachment_3180" align="alignright" width="150"]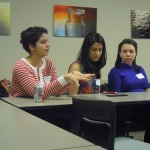 In the audience, Bpeace member Monica Sanz asks the panel about access to finance for entrepreneurs in El Salvador. [/caption]
Marvin Fuentes estimates that the costs incurred by insecurity account for approximately 15% of a company's operating expenses and, nationwide, the country spends almost 10% of its GDP on security. During her travels to the country, Mary observed that Salvadorans fear for their safety everyday and this negatively impacts their professional and personal lives.
Hope and inspiration
But, for what seems like a bleak situation, the message of the evening was hopeful. The Salvadoran small business owners that Bpeace assists serve as role models, pursuing innovation and pushing economic development. Marvin noted that Bpeace's work educating and supporting entrepreneurs is critical in a difficult economic and political situation.
Claudia choked up as she describes the positive impact Bpeace has had upon the growth of her business and the quality of her life. She explained, "Bpeace has been a great inspiration. I hope to help other women as they have helped me."
Fahima Ahad, head of Bpeace's Young Professionals Leadership Council, commented that, "The event was a success. The goal was to re-energize Bpeace's Young Professional group, educate members and non-members about the situation in El Salvador, and demonstrate the need for Bpeace's work in the country."
Bpeace has been assisting entrepreneurs in El Salvador since 2011. Roughly 60% of the SMEs Bpeace works with in El Salvador are women owned or led businesses. You can follow La Canasta on Facebook.