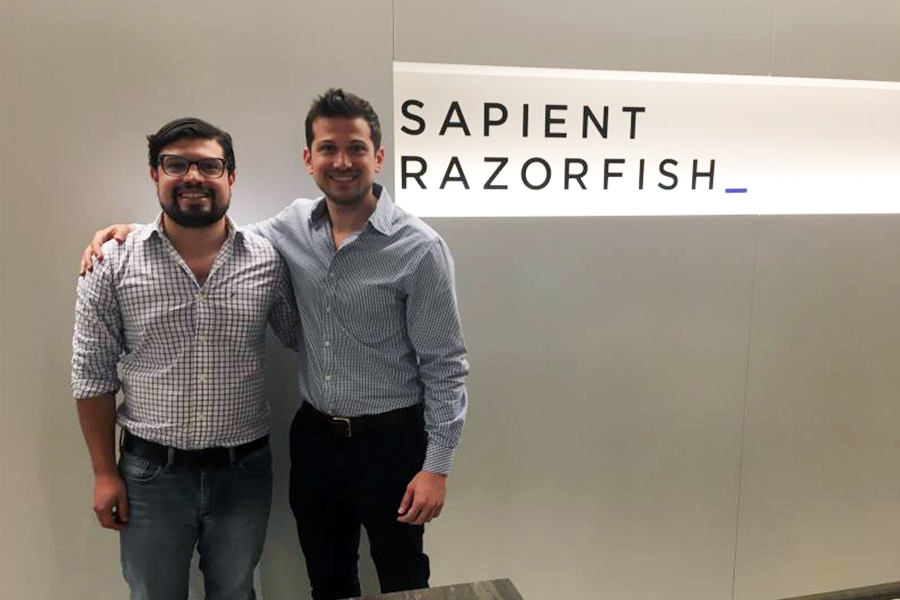 A conversation with Marco Ambrosio, North America Growth Strategist for SapientRazorfish.
Javier Guerrero of Happy Punk Panda, a Salvadoran digital media company, came to New York through Bpeace's Fast Runner Program. His top request? To meet with the top digital agencies including SapientRazorfish.
How did SapientRazorfish become a Bpeace Host Company?
Before I came to SapientRazorfish, I was a social entrepreneur focused on health, education and income generation for marginalized populations. When I got the request from Bpeace to be a Host Company and learned about the organization's ethos, it was a no brainer.
How did being a Host Company jive with SapientRazorfish's ethos?
SapientRazorfish was designed to be a learning organization which requires an entrepreneurial spirit and a coaching culture. The opportunity to learn from and to share best practices with an entrepreneur trying to do great work and impact his local community fits right in.
How did you structure the day?
When Javier came in, we created an agenda based on his priority goals. He was interested in three topics: organizational design, scaling teams and developing culture. After initial introductions and unpacking his current state and future vision, we tackled each topic in modules. Each module was a mix of open conversation and white board sessions, sharing best practices and exploring opportunities for Happy Punk Panda. We ended with a guided tour of the office. All in all, it was about two and a half hours. Later that evening, we regrouped for a falafel dinner with a few people.
Were there any challenges?
We were in the midst of moving offices, so planning was a bit of a challenge.
What most impressed you about Javier and Happy Punk Panda?
Javier has the right mindset, an impressive client list and the ideal core team--creative, strategist and developer. I also liked how they are getting into data plays. However, I was most impressed about his receptiveness to feedback and eagerness to consider new ways to structure his organization and his delivery teams to achieve better scale and increased collaboration.
Another impressive piece was that Happy Punk Panda offers to help employees, many of whom live in rough parts of the city, get drivers licenses and make car payments so that they can have a safer and more secure commute.
What did you learn from Happy Punk Panda?
I learned about their unique delivery model, which has successfully gotten them to where they are, but has scalability challenges. Also, Javier told me about a cool project at the flagship mall in El Salvador where they leveraged consumer data in an interesting way to provide insights to the stores so that they could better personalize the experience. I told him to keep focusing on those type of projects.
Will you have any relationship with Javier after this experience?
I plan to check in three months from now to see how he is doing, what decisions he's made and any initial outcomes.
How do you think large companies like SapientRazorfish can benefit from cross-cultural exchanges with small companies like Happy Punk Panda?
The world is an interconnected place. The more we learn about other cultures and from one another, the better off we are. Through Bpeace, we hope we've helped a mindful entrepreneur grow. Javier believes, like we believe, that creating good jobs in the local community translates into greater security, freedom and opportunity for people in a country that's going through a difficult period. These types of very real, tangible opportunities don't always arise in large service companies, which is why the connections that Bpeace enables are so uniquely valuable.
Would your customers and employees be pleased that you invested time as a Host Company?
Yes. If we think about the countries where Bpeace works, the mantra "more jobs mean less violence" is very powerful.
What role did Bpeace staff play to ensure you were effective as a Host Company?
Bpeace has a great website so it was easy to grasp the organizational ethos and to see that they are serious about scaling local entrepreneurs. Also, the brief they provided about Javier helped me understand what he was looking for so that I could prepare for the visit.
What would you tell a company that is unsure about whether to host a Fast Runner?
I would say life is about impact, and this is an easy way to impact not just one life but local communities by sharing the skills you already have.
***
SapientRazorfish, a new breed of transformation partner, helps organizations reimagine how they can organize, connect and thrive through a radically customer-centric approach with cutting-edge technology at the core.