Zarghuna: Helping Afghan women feel beautiful, healthy and independent
By

Carla Bachechi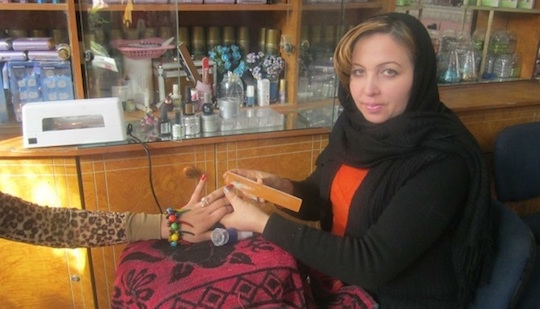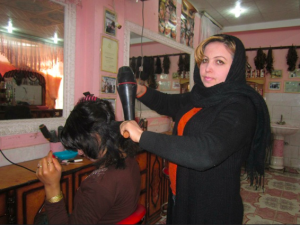 Zarghuna in one of her four salons in Mazar-i-Sharif, Afghanistan.Aspiring to the freedoms of the past
When most of us think of women in Afghanistan, we picture them hidden behind the walls of their homes and the folds of their full-body burqas. But it hasn't always been this way.
Until the 1970s, the 20th century had seen relatively steady progression for Afghan women's rights. Afghan women were first eligible to vote in 1919, only a year after women in the U.K. were given voting rights, and a year before women in the U.S. were allowed to vote. In the 1950s, purdah (gendered separation) was abolished, and in the 1960s, a new constitution brought equality to many areas of life, including political participation. Afghan women had access to professional careers, university-level education, public transportation, public spaces, and shops selling nontraditional clothing--all of which they navigated freely without supervision.
Then conflict took its toll. During the coups and Soviet occupation of the 1970s, through civil conflict between Mujahedeen groups and government forces in the 1980s and 1990s, and then under Taliban rule, Afghan women had their rights increasingly rolled back. Under the Taliban, they were banned from going to school, working, leaving the house without a male chaperone, or even showing their skin in public. Zarghuna is both old and young enough to have experienced both of these worlds.
Opening the market for "beauty work"
Zarghuna was born in Mazar City in 1971. Her father died when she was two years old, and afterwards her mother struggled to care for her and her older sister by working as a seamstress from her home. Zarghuna's mother encouraged her daughters to attend school. Based on her efforts and performance, Zarghuna won admission to a government school and continued her education through the first year at university. At 20 Zarghuna was engaged, and at 22 she married.
Shortly thereafter, in the early 1990s, the Taliban came to power, and she fled with her husband to Iran where she remained for seven years, working as a seamstress and learning how to style hair. After the fall of the Taliban in 2001, the family returned to Mazar City, and Zarghuna wanted to work "like men do." "There was no culture of beauty work," she says. "Hair and makeup were all done in the home. So I opened the market."
Zarghuna had always been interested in becoming a hair stylist. When she was a young girl, she saw a photo of herself and was appalled that her mother had paid no attention to her hair (the family did not own a pair of scissors). As she grew older, she began working on her hair by "twisting paper" into it to make it curl. Then she started doing the same for her neighbors--and making money at it.
Not everyone approved of these activities. In traditional and religious families, "beauty services" are associated with prostitution. Yet these negative stereotypes did not slow Zarghuna's progress.
Becoming a professional
She worked hard to become a professional. In 2006, she went to India, then to Tajikistan and Dubai, to study and learn. In 2011, through the support of Bpeace, she spent a week at the top-tier Bumble & bumble salon in New York City where she learned new techniques and was impressed with the physical facilities--five floors with spectacular views and legions of high-end stations and special facilities for coloring--and a very chic clientele.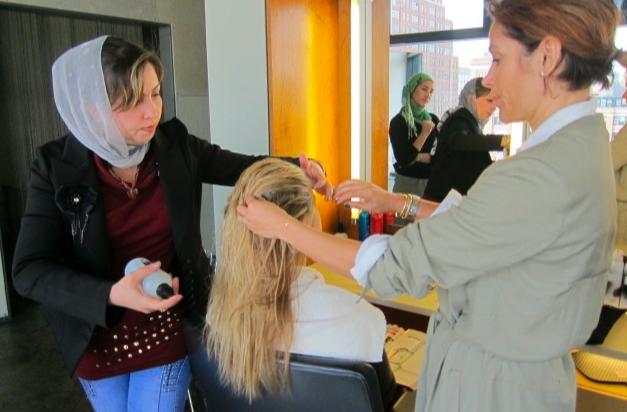 Zarghuna apprenticing at Bumble & bumble in New York.Zarghuna now considers herself a professional stylist. It is "her art," she says, and her services include not just hair cutting, styling and coloring, but also makeup, nails, massage, and dress and jewelry rentals. Though she has only four chairs in each of her salons, cutting and coloring occur in the same room, and electricity and running water cannot be taken for granted, she wants all her clients to become "stylish." She continues to confront any opposition to her services by maintaining an image in the community of a "clean," educated and hard-working professional businesswoman.
A "healthy" expansion
Several years ago, a client shared that she was suffering from leg pain and a doctor had advised her to exercise. But the question was where? This inspired Zarghuna to open a gym to "encourage women to have a good and healthy body." She explains, "Women come to the salon to be beautiful, and after we do their hair and makeup, they want their bodies to be beautiful, too."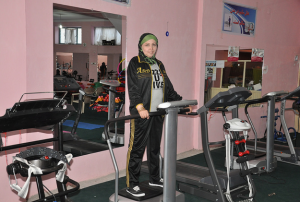 Zarghuna in one of her two fitness studios in Mazar-i-Sharif, Afghanistan.Bpeace volunteer, Jeff Castaldo of Nyack Fitness in New York, regularly makes tailored workout videos for Zarghuna's clientele that are played two or three times a week. Bpeace consultants in Afghanistan supported Zarghuna in writing a grant proposal to get the funds to purchase equipment to open a second gym--and she won the proposal. She now has two "fitness studios."
Changing lives
Zarghuna is changing the lives of many Afghan women, not just by making them feel beautiful and encouraging them to be healthy, but also by employing them. She trains her employees herself and dreams of having her own school for beauty services. The jobs she provides lead to a new level of freedom for her employees through a little financial independence.
The salons play another important role for many of Zarghuna's clients. Visiting Bpeace member Laurie Chock recounts, "In the hair salon, there's an opportunity for women to get together with women from other families. It's a place where they have license to let their hair down, both physically and metaphorically. They're wearing sparkly tank tops, tight jeans and high heels. When they get ready to leave, they put on the burqa."
Facing the future's challenges
Beauty services are a luxury in Afghanistan--it can cost up to a month's salary to have hair and makeup done for a wedding or special occasion. And weddings are the backbone of Zarghuna's business, with 20 to 30 women descending on the salon for pre-celebration services. Though rural women generally perform "everyday maintenance" in the home, Zarghuna believes that the majority of women would like to come to a salon more often. To this end, she is working to build acceptance as a reputable business owner and has developed a program about salon services for Afghan national television. "I want more people to become familiar with salon services," she says.
But the economy is not the only challenge Zarghuna faces. There's also security for her customers. The Taliban is opposed to sports and beauty salons, and Zarghuna employs guards to protect her customers and keep all men out. She believes that if women were more secure in their communities, every woman would be able to come out of her home and courageously engage in education, work and, of course, a little time at the salon and gym. She is hopeful that attitudes are changing. After the last election, she saw more women interested in participating in the fitness studios. President Ghani ran for office promising that he would work hard to improve the status of women and girls, and Zarghuna is cautiously optimistic. "It is too early to tell," she says. "Hope may be fading in the face of inaction, but it is too early to judge. I am more optimistic than pessimistic."
The dream continues
For 2015, Zarghuna wishes peace for her country. She hopes to keep expanding her business and will soon be employing more than 120 women--women who once suffered a lot. She hopes she will be able to help many Afghan women build their confidence and self-esteem by taking a holistic approach--addressing her clients' emotional and physical health, and providing a space for new friendships. She hopes that her daughters will attend university, and she wants them to be liberated, free and confident, knowing it is OK to be beautiful. She also hopes her efforts will pave the way for other women.
This is all Zarghuna's dream, and so far she says, "I am making it come true."