One woman's dream helps many women: The story of Afghanistan's Kitchen Kween
By

Donna Fleetwood and Paula Wilbert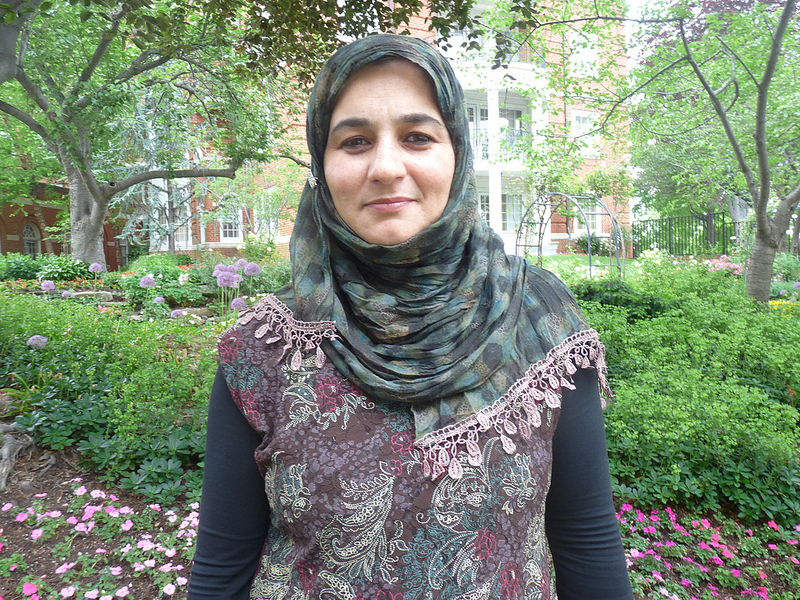 Latifa, Bpeace Fast Runner and owner of Kitchen Kween.
Latifa grew up in her father's factory and always dreamt of having her own industrial company with mostly female workers. Her dream was not easy to implement due to Afghanistan's strict and conservative environment, where women's voices are not heard and little value is placed on their competencies. Even within Latifa's family, her business idea caused discord because it was outside the traditional role for women.
This is the story of how one woman's vision became reality. The non-profit business volunteer network Bpeace connected us to Latifa as mentors, business advocates and pro bono consultants. Since 2009, we have been eyewitnesses to her passion to build her business.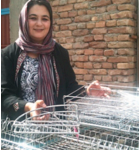 Latifa showcasing the metal wiring for kitchen organization produced by Kitchen Kween.

March 2010: Building the dream
When Latifa applied to the Bpeace program, she described her business dream: "My main idea is to create job opportunities for poor and widowed Afghan women. It is related to the industrial part of my country, which was destroyed during long-term internal wars. Establishing a small factory will produce modern wire kitchen accessories. In my country, people need to rehabilitate their houses that were destroyed during the war and the Taliban regime. The old and unsafe kitchen accessories currently used have [negative] effects on food safety and people's health."
Latifa's belief in the power of women to make change in her country fueled her dream. She says that given the same opportunities, women and girls do a much better job than men. Once women learn to use the machinery, they can produce better, more beautiful products. Men tend to consider only function and not the aesthetics, whereas women consider the beauty of the product a vital component.
From the time Latifa entered the Bpeace program, she not only kept up with the milestones set for Fast Runner entrepreneurs, she also continued to raise her two daughters and two sons and work at several NGOs. She was and is an advocate for women's human rights and empowerment through education, and has often put herself at risk to travel and educate women.
October 2010: Project Artemis
Bpeace often collaborates with Thunderbird for Good, working with them to help Afghan women create prosperity through job creation in order to fight poverty, secure peace and improve living conditions in their communities.
Latifa and a group of other Afghan women were invited to the Thunderbird School of Global Management in Arizona to participate in Project Artemis -- an intensive two-week training program that aims to build the business skills and expertise of promising female Afghan entrepreneurs. Latifa was chosen over many other candidates because she was recommended by both Bpeace and the Goldman Sachs 10,000 Women program as someone driven to succeed, responsive, easy to communicate with and who showed clear progress toward the goals she set. In addition, the business she wanted to start was not a typical handicrafts business, but a solid manufacturing/production business to make products for which there was domestic demand.
Getting to know Latifa
Paula: During the last few days of the Project Artemis training, the women's mentors, selected through an application process, joined them on the Phoenix campus. I was paired with Latifa because my business is designing, manufacturing and marketing a consumer product. We would soon learn that many other synergies made this relationship a great match.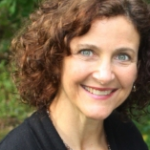 Paula Wilbert, Bpeacer and advocate for Latifa.
Latifa was sincere, warm and engaging. She willingly, and at times tearfully, shared her life story. Both the men and women in her family were highly educated -- doctors, engineers, a computer scientist and a BA in pharmacy (Latifa). She described the low points in her life as the day her father was killed, and when she had to flee Kabul with her husband on foot, leaving her home and family, not knowing where her mother and siblings were or if they were even alive. She slept on a sidewalk that first night. She lived as a refugee in Iran, where she worked in a factory and learned the trade that would become the inspiration for her business. After many years, she was reunited with her family and returned to Kabul to rebuild her life.
Latifa spoke about children being the hope for a peaceful future. Her dreams for her business were tied to this larger mission by providing widows and people with disabilities an opportunity to earn an income to provide for and educate their children.
It was a sad goodbye when we departed Arizona, but fellow mentor Donna and I were grateful for our bonds with Latifa. The half a world between us would be bridged by her access to an Internet connection and Skype to keep our support and communication going.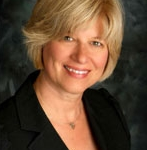 Bpeacer and advocate for Latifa, Donna Fleetwood.
April 2011: Kismet
Donna: When I volunteered to be Latifa's business advocate in 2009, one of my roles was to find U.S. experts in kitchen and wire manufacturing who could give her advice. Years ago, I'd met Joan Eisenberg, a kitchen designer and owner of JME Consulting in Baltimore. When I called her, she was interested in the women of Afghanistan and open to helping. Joan has been a valuable resource over the last few years, making introductions to CEOs of kitchen companies and generously sharing her experience and knowledge of the industry.
In 2010, Latifa and her brother Mohammed Sabir were invited to apprentice in the U.S. as part of the Bpeace BART (Bpeace Apprentice Road Trips) program supported by the U.S. Department of State Professional Fellows Economic Empowerment Program. Mohammad was a married engineer with four daughters; during the Taliban regime, he had worked for 15 years in Iran at a company producing metal and wire products and now had a metal business called Majidi Metalworks. He joined our program a year after his sister—the first siblings accepted as Bpeace Fast Runners. I volunteered to host Latifa for a week in Central Pennsylvania and lined up apprentice opportunities. Latifa's other advocate, Paula Wilbert, would fly with her the following week to a kitchen wire manufacturing plant in Kentucky.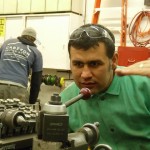 Latifa's brother, Mohammad Sabir learning during his Bpeace Road Trip in 2011.
What an agenda we built! Generous companies offered to train her, and we were set to visit cabinetmakers, observe the design and installation of kitchens, study accounting and attend dinners and a reception. Bpeace program director Marla Gitterman kept Paula and I informed, checking off visas as they came through. Everyone got theirs in time except Latifa. She would not make the trip, but her brother would. It was difficult to cancel all her training and explain the situation to the many business folks who had set aside time out of their busy schedules.
But I was more worried about Latifa, knowing how disappointed she had to be. She told me she was not upset and saw this turn of events as kismet (God's will, fate or destiny). More than once, she has been my teacher instead of the other way around.
I wanted to meet her brother, so I volunteered to drive to Washington, DC, during his visit with the other Afghan entrepreneurs. I remember being impressed with his intelligent comments and questions that showed the qualities of a leader. I remember him saying, "Give us business tools, not tools of war."
April 2012: BART
Donna: In conjunction with the U.S. State Department, there have been five Bpeace Apprentice Road Trips since 2005. Because Latifa did not make the earlier trip, she was invited again for 2012. I reached out to some of the same companies to schedule apprenticeship time. For various reasons, some cancelled out, but the right people showed up at just the right time.
I spoke at an International Woman's Day event in Lancaster, PA, about two weeks before Latifa's arrival. I was telling a woman at my table about trying to arrange apprenticeships for Latifa's trip and how I was having difficulty. She gave me the name of a CEO at a very large kitchen cabinet company in Lancaster and assured me he would be happy to help. I made the call to Glen Good, CEO of QCCI, who was indeed glad to make the time and offered two full days of training! I call it the Bpeace magic.
Then the unexpected struck again. The day Latifa was to pick up her visa, there was a bombing in Kabul close to the embassy and the city was on lockdown. A day went by, then two. It seemed she would not make the trip. We again made those painful calls to her host companies canceling her visit. I felt such deep disappointment as everyone on her team did. Suddenly a call came from Marla, our program director. Latifa was at the airport and would arrive in the U.S. after all. Everything had to be rescheduled and shifted on a tight timeline. I said a prayer.
Latifa (right) with Brian Miller (left) of Excel Kitchens.
Kitchen designer Brian Miller of Excel Kitchens said yes. CEO Glen Good from QCCI said yes. A local developer said yes, he would show her his project. Paula Wilbert said yes, she could still meet her in Chicago for the kitchen trade show.
It was an amazing week. Not only did Latifa receive stellar training, but it became a great cultural exchange. Latifa was able to share her story at a small reception, have dinner with an Amish family and share Persian tea and treats overlooking a creek. I discovered that flowers delight her and that any cultural barriers are easily forgotten over ice cream.
Chicago: The Kitchen and Bath Industry Show
Paula: After much anticipation, Latifa and I were reunited at the Chicago airport. We spent several days attending workshops and walking the expansive showroom floor talking to vendors and taking pictures of closet storage solutions, kitchen cabinets and counters, and bathrooms including wheelchair-accessible designs. Latifa would eventually use these pictures for inspiration when designing projects for her customers. She was astounded at the modern technology and contemporary designs displayed in the showroom and joked that in perhaps 20 or 30 years Afghanistan would be this modernized.
The education sessions provided nuts-and-bolts strategies for Latifa's business. One particularly relevant class was on Universal Design—the buzzword for designs that accommodate children, aging Boomers and elderly parents all under one roof. Many homes in Afghanistan already accommodate multigenerational occupants but also a growing number of people in wheelchairs due to leg amputations from explosions; Latifa learned about specs and designs for wheelchair accessibility in kitchens and bathrooms. Another session provided useful resources for working and communicating effectively with contractors and customers as a remodeler. Latifa also spent a half-day each with a custom cabinetmaker and a remodeling contractor, arranged by Chicago Bpeace volunteer Rose Pagonis.
In our early-morning and evening strolls around Chicago, we continued to develop our friendship and shared stories of raising children, building our businesses, overcoming obstacles and maintaining our goals and vision. Although we were in the midst of the big U.S. recession, whatever challenges I faced at the time paled in comparison to Latifa's. Her strength and determination were a great source of inspiration and provided a timely perspective. It was wonderful to see our country through Latifa's eyes. She saw security, freedom, opportunity, order and equality—all things we easily take for granted.
At the end of the trip, Latifa said, "The most important thing I learned in the U.S. is that women have the power in society and the rule of law, and that there are standards for all aspects of their lives. I can include these elements in my business. I will develop clear rules and conditions, bring women to positions and give them space for development."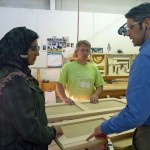 Latifa learning manufacturing and production techniques at Quality Custom Cabinetry, Inc. (QCCI)
Merging Kitchen Kween and Majidi Metalworks
While Latifa was at QCCI in Lancaster PA, CEO Glen Good had spoken of starting his kitchen company from his garage and how it had evolved and now included various divisions under the QCCI umbrella. Latifa had shared the significant challenges to being a woman business owner in Afghanistan, including how to convince men to do business with her.
She was not back in Afghanistan long before we learned that she and her brother had formed a partnership, and that Kitchen Kween would be the "umbrella." It was a natural fit for Latifa and Mohammad to merge their companies and distinctly different, but complementary, skill sets. Mohammad offered knowledge and experience along with his hard work and practical, innovative and technical skills. Latifa's strengths were in developing action plans, in management, leadership, networking and communication, and in forming liaisons with government programs.
Building the factory
The land for the factory was acquired, then the machinery ordered from out of the country (in Afghanistan, most raw materials and products must be imported). It took a long time to get the machinery due to difficulties crossing the border and corruption in the border and tax departments. When the building finally started, the winter season was approaching and the snow and frigid temperatures delayed construction. Sister and brother encountered problem after problem but persisted diligently one step at a time. Eventually, the factory was completed and the machinery installed. Now they were ready to hire.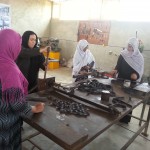 Latifa's new employees working at Kitchen Kween's factory.
The dream becomes a reality
In May 2013, Kitchen Kween hired 25 workers -- 10 women and 15 men. Latifa kept her promise to hire poor, widowed or immigrant women who needed to provide for their family. She recruited a female workforce that was primarily illiterate, had never stepped out of their homes without a male escort and had never earned even a dollar of income. Training them, explaining company regulations and developing their capacity to learn new skills and their specific job all required a great deal of patience and hard work. But now the women are comfortable using the machinery and understand the tasks their supervisor asks them to do. More importantly, they are earning money for the first time in their lives -- money that will feed, clothe and educate their children. One by one, these women, along with Kitchen Kween, will do their part in contributing to Afghanistan's rehabilitation and reconstruction, bringing prosperity and peace to the country.
At eight years old, Latifa's youngest daughter already has a big dream. Tajalla is very proud of her mother and is always asking questions about Kitchen Kween. She says she will follow in her mother's footsteps and go to university abroad, then become a businesswoman who runs a factory and hires female workers.
A look at two Kitchen Kween employees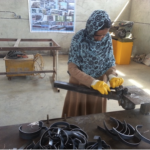 Shirin Jan working at Latifa's factory.
Shirin Jan, 45 years old and the mother of eight daughters and three sons, was 12 years old when her family married her to a 45-year-old man. During the war, she and her husband immigrated to Pakistan and had no opportunity to send their daughters to school; her sons only attended up to grade 7.
Shirin eventually returned to Afghanistan, and three years ago her husband was killed in a bomb explosion. She lived in extreme poverty, where her life became worse day by day as she had small children and no income.
She worked on repairing used clothes under the hot sun of the Nangerhar summer. She and her children couldn't attend some family ceremonies because they didn't have clothes or the money to purchase them. She couldn't even buy matches, soap or detergent. She had three small children but couldn't afford to send them to school.
She believes her job with Kitchen Kween will help her economically and enable her to send her children to school. She now has hope that her children will have a bright future.
Shabana, 38 years old, with two daughters and five sons, married at 18. While living in Kabul during the war, she and her husband lost everything. They immigrated to Pakistan, and her family struggled because of poverty and the different culture. She worked in a home in Panjab for a very low salary—about $30/month.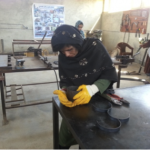 Shabana at work for Kitchen Kween.
Eleven years ago, Shabana's husband was killed in a bomb explosion. She and her children left the country because of extreme poverty and no job opportunities. Her two sons, now 14 and 16, are working in a transport company and have to carry heavy iron materials on their heads. She is concerned about their health and future.
She is very happy that Kitchen Kween came to the area near her rented house and provided her a job. She is committed to working with great energy and she thanks God every moment for such a great opportunity inside her home country.